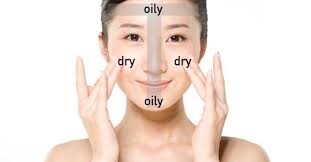 BRIDAL SKIN CARE TIPS – Getting Started, Know your skin type.
Blog Two in this series is COMBINATION SKIN.
Put Simply, this skin type is a mixture of oily and normal or drier areas on the face.  Generally, the T-Zone tends to be oily and the cheeks dry.  Those with combination skin tend to be in constant battle with their T-Zone.
Choosing products for this skin type, the secret is to spot treat your problem areas.
Cleanse with a cleanser formulated to cut down on sebum production and use a moisturiser on your dry areas.  Try exfoliating the face with a warm washcloth or muslin square once to twice a week.  This will help to break down oils and remove dead skin cells.
Try a basic skincare routine….  In the summer, wash with a cleanser formulated for oily skin and in the winter one that's formulated for normal to dry skin.  Cleanse the skin thoroughly at night and rinse off with warm water in the morning so you're not over-cleansing the skin.  Over cleansing can cause the skin to over produce oil.
Moisturise your dry spots well with a light, oil-free moisturiser.  Skip your oilier areas throughout the summer.  In the winter you can moisturise the whole face with a heavier moisturiser that's designed for combination skin.
Exfoliate twice a week with a gentle facial scrub.  Make sure it's designed for combination skin.
If you suffer from breakouts, an astringent may help but be careful to use it only on your problem spots and avoid your dry areas.  You can also use a toner; these can be too drying for other skin types.  Again, ensure not to use over the drier areas of the face.
CHARACTERISTICS OF COMBINATION SKIN…
Normal or Dry, flaking areas on cheeks
Excessive oil on nose, forehead and chin
Prone to breakouts where oil production is found
In a constant battle with the T-Zone (forehead, nose and chin)
https://kaylouisemakeup.co.uk/wp-content/uploads/2018/02/kay-louise-make-up-artist-worcestershire-logo.png
0
0
Sammy
https://kaylouisemakeup.co.uk/wp-content/uploads/2018/02/kay-louise-make-up-artist-worcestershire-logo.png
Sammy
2020-01-27 09:15:14
2020-01-27 09:19:33
BRIDAL SKIN CARE TIPS 2