WINTER SKIN SURVIVAL
The last week has really taken its toll on my face. The freezing temperatures & central heating has wreaked havoc with my skin.  In turn causing dryness, tightness & giving a lackluster appearance.   I'm pretty sure I'm not alone!
If like me, you're having skin issues due to the changing temperatures, here are some of my top tips to help combat the winter skin blues & help prepare you for spring, when it finally arrives.
MY TOP WINTER SKIN TIPS~
Stay hydrated~
Water is essential for keeping your body in good working order. I know only too well that it's hard to drink cool drinks on colder days.  It can leave you reaching for caffeine filled coffee/tea or that lush hot chocolate instead.
However, you're only adding to your woes.  Caffeine is very dehydrating, so I opt for a mug of hot water with a slice of lemon or lime or herbal tea.  It's refreshing, can aid in digestion & still gives you the essential hydration that you need. It's also a lot easier to drink when is sub-zero outside.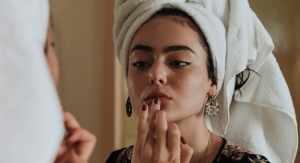 Moisturise~
Swapping your usual moisturiser to a richer formula in the winter is a great way to combat dryness. Go for thicker creamy oil-based moisturisers instead of water-based lotions.  It will be a god send for winter skin.  Adding a facial oil to your routine is also a good idea.
Why a facial Oil?~
Oils penetrate deeper into the skin layers effectively locking moisture in.  They help keep harmful toxins & pollutants out.  Oils will also help act as a primer.  They do this by smoothing out the surface of the skin.  In turn minimising fine lines & wrinkles & helping to plump the skin.
Look for facial oils that contain Moringa oil (used by the Egyptians), Rose-hip or Frankincense.  The all aid in the ageing process. By adding a couple of drops to your everyday moisturiser, you can really give your skin that much-needed moisture boost it needs.
I love my Neal's Yard Remedies re-hydrating rose facial oil.  Kiehls & the body shop also do a fantastic selection.
An essential time to add oil to your routine is overnight so whilst you sleep & your skin does its usual repair & regeneration process & will gain all the benefits from your facial oil.
Don't forget the body!~
Why not opt for rich body butters or body oils to help keep the skin hydrated all over.  The Body Shop does a huge range.  My favourite is the moringa, it smells divine!
Lips need TLC Too~
My lips also suffer chapping so I use a lip scrub to sluff away the dead dry skin.  My favourite lip scrub is the bubblegum scrub from lush.  I then apply a rich vitamin enriched lip balm.  Be sure to avoid petroleum-based products because they will only dry the skin further.  Instead try rosehip oil, shea or coconut butter or beeswax.
Try not to lick your lips continuously.  Saliva contains acids that help break down food in the chewing process & can irritate & dry out the skin if in continuous contact with it.
Extra steps~
Add an extra treatment into your weekly routine. Whilst we are in the colder months it is very beneficial to treat your skin to a weekly scrub & mask. Pick an evening or morning that you can take 5-10 minutes out & give yourself a mini home facial. Not only is good for the skin but it's great for the mind too. It's amazing what taking 5 minutes out from life can do!
Give yourself a treat~
A good scrub with creamy textured exfoliator is perfect for scrubbing away dead skin cells & those pesky dry, flaky areas caused by the wind chill. Exfoliating can also help boost your circulation, eliminate pore blockages & help the skins cell regeneration speed up (it does get more sluggish in winter due to the lack of vitamin D that we get from the sun's rays).
Once you've scrubbed finish with a hydrating facial mask. This will smooth out the surface, replenish moisture, cool & calm the skin. This is the time to sit with a book, have a coffee break or simply sit quiet & reflect on your day. Relaxing for the mind, body & soul! Done before bed, it can improve your sleep too.
Results really do speak for themselves~
Here's a little snippet of my usual weekly routine- YOU can see the difference from the first picture to the last.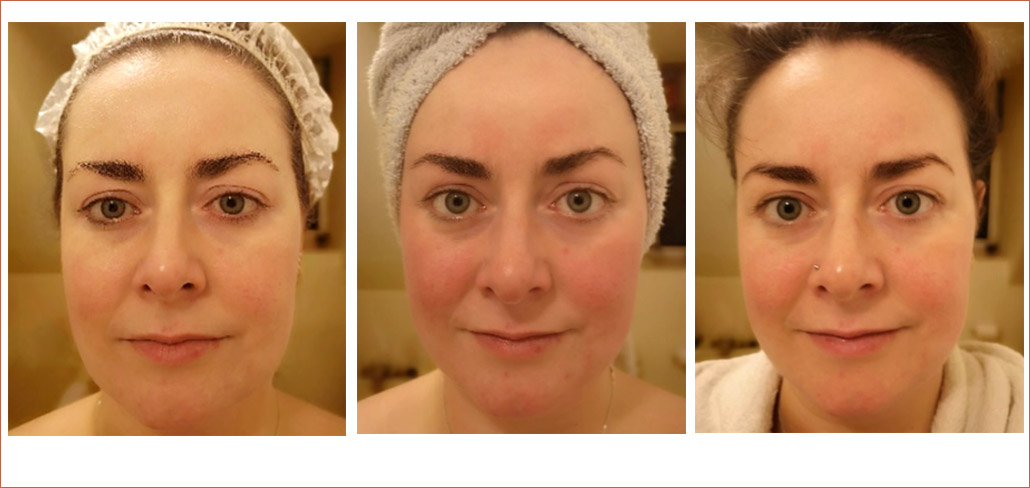 Picture 1~
As you can see in the first picture, I came home from work with dull, lifeless skin. The weather really upsets my rosacea so I end up with uneven tones & red areas.  My lips are also dry & chapped.
Picture 2~
In this second picture, I have come out of the shower after cleansing & toning the skin & using a moisturising facial scrub whilst in the shower.  The difference is already noticeable.  My skin is more even, brighter & has a flush to it thanks to the scrub stimulating the blood vessels.  This, in turn, will allow the regeneration of skin cells by upping the blood flow to the skin.
Picture 3~
This is after An anti-oxidant facial mask & moisturising with a few drops of oil followed by a rich moisturiser.
Look at the difference from the start!
The facial mask has helped to take down the redness & the mask has sluffed off those pesky dead skin cells that were giving me the dullness & the intensive moisture boost has given my parched skin what it needs to repair itself.
With these few tips, your skin should stay bright and healthy throughout the cold spell and you should be able to enjoy the snow and frost without sacrificing your skin.
Please do get in touch with any questions or if you need any advice.  Why not book in for a hydrating or soothing facial and treat yourself.
STAY SAFE & WARM THIS WINTER