Living with Rosacea
Living with Rosacea is never going to be easy.  You honestly don't know how the skin will look from day to day.  With last month helping to raise awareness I thought it was a great opportunity to tell my story.
April may be over but this skin condition doesn't just end like the month. I wanted to follow on from my last blog post about Rosacea.  I previously said that we don't really know what causes the condition in the first instance but what we do know is we have things that can trigger a flare up.
Triggers can include: –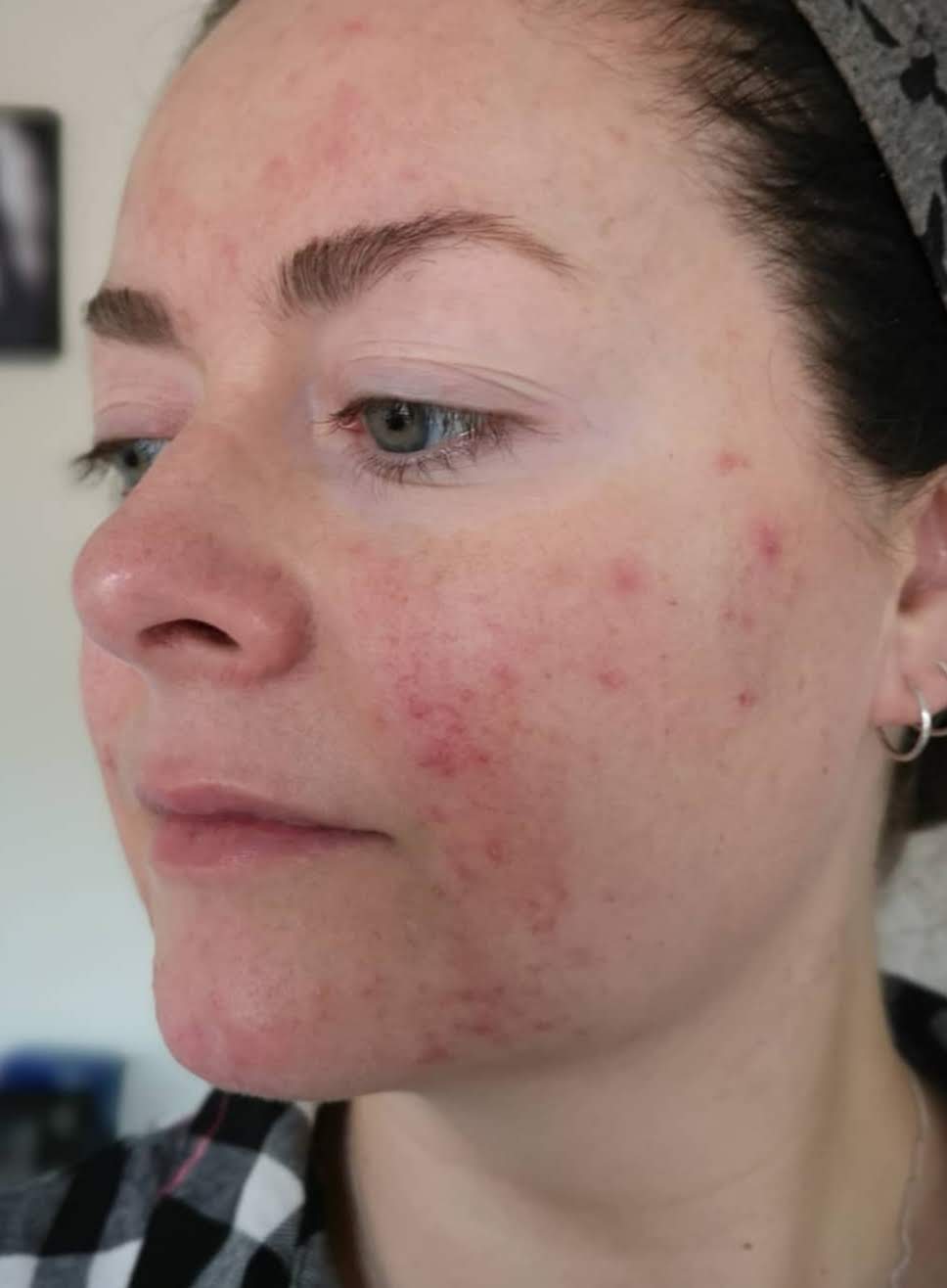 Food – especially those which are hot, spicy or high in sugar,
Alcohol,
Extreme Temperatures,
Weather,
Emotional Stress,
Exercise,
Cosmetic Ingredients,
Body Changes,
Over-the-Counter Medication.
These triggers can be avoided once we know what they are.  I found keeping a diary of my flare ups really helped in the early days and I now know what causes me to break out.  Some are easy enough to avoid and I will take the consequences should I decide to have a spicy curry or a glass of wine.  However, some are not that easy to steer away from and can leave you feeling like you must change your daily life to avoid a flare up.
In this case, a way of coping with the flare up is a better way of dealing with the issue.
How to care for skin when living with rosacea~
I have found that having a good skin regime can really help with the condition, even on a really bad day.  Rosacea will leave you with sensitised skin and on the worst days it can be raw and sometimes weep.  You will need to totally strip back your products and routine. I won't say 'boring' but the products you will need to substitute to will have to be fragrance free and suitable for sensitive skins.  Unfortunately, those lovely smelling, latest trends on the market just won't be suitable for you anymore.
Here is my step by step guide to cleansing and moisturising your skin with minimal products that still give you optimal results.
Cleansing~
You will need to choose a good hydrating cleanser that is light and creamy in texture and won't clog your pores.  You don't want anything abrasive or too thick so that you must scrub at the skin to remove.  It's best to find a cleanser that glides effortlessly onto the face and can be gently massaged in and removed easily with a soft cleansing cloth or towel.
Personally, I love a hydrating cream cleanser to break down makeup followed by a gentle micellar water or foaming cleansing gel.  Just remember not to use rough, scrubbing motions and instead opt for a soft sweeping motion and make sure that your water is lukewarm to avoid further irritation and redness.
My Top Picks~
I love my Neal's Yard Calendula Cleanser £17 and Sensitive Comfort and Hydrate Micellar Cleanser £28.  But I have also had great results from The Body Shop's Aloe Calming Cream Cleanser £8.50 and Arbonne Calm gentle Cleanser £20.
I love to use a gentle creamy face wash in the morning too.  This is the Orange Flower facial wash from Neal's Yard £17 and has the most beautiful silky texture and combines aloe vera and calendula for a soothing wash.
Toning~
I now tend to avoid toning my skin.  For me, any form of alcohol is just too astringent, dries my skin and is further cause for redness.  Instead I opt for aloe vera gel in its pure form if I feel I need this extra step.  I have tried many on the market but my go-to are –
Doctor Organic Pure Aloe Gel £5.99
Aloe Pura Aloe Vera Gel 99.9%  £5.99
This gel acts as a toning product without the alcohol content.  It smooths and conditions the skin ready for moisturiser without drying like a regular toner.  Instead it conditions and moisturises the skin.
Be sure to check the ingredients on aloe gels because some do contain astringents like tea tree or witch hazel.  These ingredients are great for oily or spot prone skin but not for sensitive skin types.
Moisturising~
This for me is the most crucial step of all for a skin conditions like Rosacea.  The condition itself creates dryness and a rough texture.  Combined with sensitivity, your skin needs extra special care and assistance to help protect and replenish it.
Again, you need to strip back your product selection.  Where possible opt for natural products.  Go for those that contain no or little fragrance and synthetic chemicals.  I use a light formula during the daytime and to wear under makeup, saving all the rich, nourishing treatments for overnight.
What about medicated products?
I have found a lot of recommendations for moisturisers from medical professionals, advise you to use specially formulated lotions for dry skin conditions like eczema.  However, most contain emollients which are basically petroleum based.  Petroleum is a by-product of crude oil (not something I really want to smear all over my face!) and although it effectively helps lock moisture into the skin, it also creates a barrier.  This can prevent air penetrating into the skin.  Air is just as important to the skin's reproduction process, so basically it gives the illusion of hydrating the skin but really, it can suffocate your pores.
My advice, steer well clear and go down the more natural route.  Yes, natural chemicals are still chemicals and too much of them, like anything is harmful.  As long as you use a reputable brand you will be fine and find more pros than cons.
My Top Picks~
Here is my go-to selection.
Neal's Yard Sensitive ranges are amazing now.  They have the lower priced range, Sensitive Soothing range.
Soothing moisturiser £25, with organic borage oil and cocoa butter leave skin soft.
And now,the New Solution Focused Sensitive range.   A higher price point but this stuff is AMAZING!   Sensitive Replenish and Balance Moisturiser £45. This provides up to 12 hours moisturisation.  This is my number one for sure.
The Arbonne Calming moisturiser is a fab product too £30, as is the Body Shop Aloe Moisturiser £14.
SPF~
It is essential that you use sun protection with Rosacea.  The condition leaves your skin very photosensitive and you will need to apply sunscreen every day.  Yes, even when it's raining.
It's best to try to find a natural sunscreen rather than a chemical one.  Natural sunscreen is also known as 'physical' sunscreen and contain two types of mineral-based formulas: zinc oxide and titanium dioxide. These sunscreens work by reflecting the sun rather than using energy conversion like other chemical-based sunscreens.
Top Picks~
I have tried many natural creams over the years, but I always find they leave a chalky white appearance on the skin or are quite drying, this doesn't bode well under makeup.  Even the Neal's Yard Rosehip factor 30 left me feeling tight and dry, which was disappointing because it smells divine.
The one I am currently using is a chemical facial sun cream, Superdrug Anti-ageing SPF 30 £3.99.  I use this because although it is a chemical sunscreen, it is still Leaping Bunny certified (Cruelty Free International) so I am sticking to my ethics with it.  I am always on the look out for a natural sun care range though so if you have found one that is amazing and you love, do drop me a line so I can try it out for myself.
Evening skincare~
Evening routine and night creams.  Night-time hydration is essential for the skin's regeneration process.  It's whilst you sleep that you skin kicks up a gear and works through the night to repair itself, regenerate cells and replenish moisture lost throughout the day.  It will then push all the toxins, dirt, oils and grease to the surface, which is why you often find you face shiny and almost slimy to touch when you wake.  Therefore, you MUST cleanse your skin first thing before using a moisturiser or applying makeup.
I find that you need a richer formula overnight to really penetrate deep into the epidermis.  I tend to use a gentle moisturiser and then a facial oil as my bedtime regime and this works well for me.  If you have an oily skin, maybe stick with a hydrating cream and a serum instead or just a good night cream.  I have a selection here for you that I have used and seen great results with.
Top Picks~
My go-to is the same as my day routine, the sensitive replenish and balance moisturiser, but I do then use my Rose facial oil £26 from Neal's Yard or their Beauty Sleep Concentrate £35. Both are gentle and penetrate deep into the skin.
The Body Shop Vitamin E Night cream £15 has a lovely light texture and soft scent.  The Ordinary 100% plant based Squalane £5.50 Found naturally in the skin, Squalane is a stable, saturated hydrocarbon that provides heroic hydration and prevents the ongoing loss of moisture.