Skincare Series –
Eye creams and special skin treatments~
Here as I promised is the skin treatments section of my series.  It has been a few weeks again since my last installment for this skincare series and I thought it was about time I continued.  In this blog I will cover eye creams, serums and facial oils and the benefits in adding these special skin treatments to your daily regime.
Eye Creams~
Do I need eye cream?
The benefits of using a separate eye product in your routine far outweigh the cons. This skin treatment is suitable for all ages and skin types.
The skin under the eye is extremely thin and sensitive to rough treatment.  The chances of developing wrinkles, dark circles and fine lines are remarkably high.
Even from an early age, the under-eye area will show those tell-tale age signs if not cared for correctly.  An eye treatment can help slow down this process and prevent premature ageing.
What does the eye cream do?
Eye products come in different formulas but tend to be in the form of cream, gel or serum.  Under eye skin treatments help nourish the delicate skin, keep it hydrated and help prevent dullness.
These products can also help to fight puffiness, discolouration and give the brighten the under eye when used daily.
Of course, you do not necessarily have to use a special eye cream or gel.  Eye products can often claim to have been formulated 'specially' for the thin, sensitive skin around the eyes.  However, they are sometime very thick and rich in texture and can have an adverse effect on makeup.  These thick creams can cause concealer or foundation to slide on the face and can make your makeup seep into the lines around the eyes, therefore making your wrinkles more prominent.  Personally, I would always recommend sticking to a light gel or serum instead of a cream.
How do I apply it?
Applying eye products needs to be gentle.  The skin treatment product itself should be placed sparingly around the orbital bone (around the eye socket).  It should ideally not sit right underneath your lower or upper lash line because of the risk of it entering you eye.
Gently pat and press into the skin using your ring (third) finger, never drag you finger along your skin.  Using your ring finger will prevent you pressing the skin too hard because this finger uses physically less pressure than the rest.
If you like to wear eye shadows, be certain to let the product absorb into the skin for at least 20 minutes before applying makeup.
Skin Treatments~
I class skin treatments to be any product that targets a specific skin condition and contain ingredients that are for targeting these conditions or boosting the skins condition in general.
They are specialist, targeted treatments that you will use alongside your usual cleanse, tone, and moisturise routine.  These products are usually designed to add extra benefits to your skincare regime depending on a specific need or requirement.
Serum~
What is a serum you ask?  A serum is a skin care product with a light lotion or gel consistency.  They contain a high concentration or performance ingredients.  These skin treatments are designed to be used to treat specific skin conditions.
You should use a serum underneath your moisturiser or treatment mask.  Whilst using a regular moisturiser is still the best foundation of a solid routine, serums are a great addition.
What is a serum used for?
Serums penetrate and absorb deeper into the skin rather than sitting on the surface layer like a moisturiser.  They are great for targeting specific concerns like acne, dry skin, fine lines, wrinkles, and dull skin.
What are the benefits to using one?
A serum is a concentrate of active ingredients, which are designed to treat specific skincare concerns.  The ingredients are powerful and are usually made up of smaller molecules.  This is so they can penetrate deeper into the dermis.
The level of active ingredient is higher than your usual face cream since the heavier oils and ingredients are removed.  Your usual moisturiser can contain around 10% active ingredients whereas your serum will contain a whopping 70% or more!
Whilst serums are no doubt great at nourishing the skin and aid in wiping out skin concerns at their root, there are visible benefits of using these skin treatments too.
Benefits of using a facial serum~
Your skin texture will improve drastically thanks to the collagen and vitamin c content and will become smoother and firmer. This will lead to visibly younger looking skin.
There will be lesser chance of spots, scars, pimples, and other marks because they will help to lighten the pigmentation over time and use. Particularly a serum with plant-based concentrates.  This is done in a holistic manner, without the use of harmful peels and chemicals.
You will see a reduction in the size of pores. This in turn can help fight against blackheads and whiteheads.
Under-eye serums also have visible benefits. They can help reduce dryness, fine lines and dark discolouration from the eye area.  Eye serum can be an instant pick-me up for brighter eyes.
With the regular use of serums, there will be less inflammation, redness, and dryness. Instead, your skin will look dewy, fresh, youthful, and moisturised.

What ingredients should I look out for and what are their benefits?
Here is a list of a few common ones to look out for when choosing your serum.
Vitamin C~
This is a common ingredient for preventing premature aging and helping the skin to age well. If you are in your late 30's and 40's, use a serum containing vitamin C.  Not only does this potent component build collagen, it also boosts skin immunity and should be a part of your regular skin care regime.
Hyaluronic Acids~
These are a fabulous way to treat dehydrated skin without the heaviness of emollients or creams. These acids trap in the skins natural water levels and make sure that it does not lose its natural moisture so that the skin remains replenished.  Ceramides and amino acids also achieve the same results and benefits.
Antioxidants~
These are essential to protect the skin from stress and environmental damage. Look out for beta-carotene and green tea extracts in the ingredients listing.  Berries, pomegranate, and grape seed extract are also active ingredients to keep an eye out for.
Retinol~
These serum ingredients are ideal for skins that are prone to acne, whilst also addressing fine lines and wrinkles.
Plant-based active ingredients~
Things like liquorice make for natural brightening and are great for dealing with those pesky sunspots and scars as well as patchy skin.
Anti-inflammatories~
If you have sensitive skin, use a serum containing anti-inflammatory properties. They will help prevent redness, breakouts, and inflammation.  The things to look out for here would be zinc, arnica, and aloe vera.
So, is a serum the same as a moisturiser?
Many people assume that a serum and a moisturiser are one in the same, but the answer is No.  While they may share some of the same ingredients and properties (such as hyaluronic acid or ceramides) serums are more easily absorbed by the skin.
While facial serums can be made of moisturising ingredients which help the skin retain moisture, they are not moisturisers in the traditional sense.  Face lotions and creams are richer, and therefore work to create a barrier on top of the skin, which helps to lock in all the wonderful benefits of a serum.
How can I incorporate a serum into my regime?
Serums only moisturize to a certain extent, so I would always recommend using them in conjunction with your favourite moisturiser.  Depending on your skin type, you can apply a serum in the morning, at night, or both.
After cleansing and toning, gently massage the product into your face and neck in upwards circles. Follow with your preferred moisturiser to make sure all the goodness is locked in, and then apply your regular makeup, as necessary.
When applying a facial serum, remember a pea-sized amount will do! A little goes a long way, and more is not always better. Because their nutrient-rich ingredients are so concentrated, you only need to use a tiny amount with each application.
Choosing the correct serum.
You will be surprise at just how many options there are on the market.  All of them promise wonderful, beautiful skin but the best way to pick one out for you and your skin is to take two factors into consideration.
Firstly, identify the skin concern you are trying to address.  Do you want to reduce the appearance of fine lines around the mouth?  Are you looking to banish those sunspots on the nose?  You need to find a serum that claims to do what you need it to do.
Secondly, consider your skin type.  If you have oily, acne prone skin, select a serum that contains salicylic acid and retinols as well as rosehip seed oil.  For mature dry skin, try something with hyaluronic acid and vitamin c.  Normal skin types work well with glycolic acid, this traps moisture and helps keep skin refreshed and rejuvenated.
If you are uncertain of your skin type, my previous blogs within this series should help you identify you skins characteristics.
Facial oils~
What is a facial oil?
A facial oil is a light oil designed specifically for the face.  It can help protect your skin against harmful pollutants.  Used correctly as the final step in your regime, facial oil can help to lock in moisture and crate a barrier to protect the outer layer of skin.
They are formulated especially for the face and so will not block pores if used correctly.  This is another way of using a specific targeted treatment for hydration.
Why use a facial oil?
Our body produces oil naturally but as we age that production decreases.  The skin needs oils to maintain a healthy balance, otherwise it gets too dry.  This in turn can cause tightness, breakouts, fine lines, and wrinkles.
By using a facial oil, you can help keep moisture locked into the skin and protect it from environmental damage.
They will work on every skin type.  Yes, even those of you prone to blemishes and excess oil.
What is in a facial oil?
Facial oils contain ingredients like antioxidants and can penetrate the deeper tissue of the skin much like a serum.  Thus, hydrating from the inside.
These antioxidants can pass through the skin quickly and prevent water loss and help plump the skin.  Antioxidants will help to stimulate collagen production and strengthen the skins elasticity, so they are amazing for reducing the appearance of lines and wrinkles.
When to use a facial oil.
 This is dependant on what your moisturiser contains really.  If you use a water-based moisturiser, then use the oil AFTER the moisturiser.  If your moisturiser is oil based, then use it before your usual moisturiser and after your targeted treatment.
You can still use a serum too.  You would apply this before moisturiser and oils.  Think of it like this: –
Your serum is your underwear, so you put this on first. You would apply your serum after cleansing and toning.
Your moisturiser would be your t-shirt and trousers so you would apply this after serum but before your oil. (as above, this would swap over if your moisturiser is oil-based.  In this case, you would treat this as your t-shirt and trousers and apply after serum but before moisturiser and your moisturiser would be the final step).
Your oil would be the coat, scarf, and gloves- your outer wear. So, you would apply your facial oil last before SPF.  (unless your moisturiser is oil based and the 2nd and 3rd step would be swapped over).
How do I choose which oil?
Here is a quick break down to assist you in choosing the right one for your skin.
Dry Skin~
Marula oil is great for reducing redness and hydrating dry, irritated skin. It will not leave you feeling greasy due to its light formula.  This oil is rich in omega fatty acids.  Cocoanut and squalene oils are also suitable for dry skin types.  If you have dry skin, a moisturiser with hyaluronic acid in conjunction with a facial oil will work well.  Hyaluronic acid plumps the skin and replenishes any moisture loss.
Normal Skin~
Avoid using oils that are too heavy. Squalene, jojoba and marula are your best option.  Take a few drops of the oil and mix it in with your moisturiser before application.
Acne-prone skin~
Breakouts happen due to overactive oil glands, so using a healthy supplement oil such as squalene can help to diminish your own oil production. Most people with acne will try to dry their skin out which is one of the worst things to do.  Acne is your skins way of telling you that your oil to water ratio is off balance, opt for lighter oils like jojoba, squalene, and tea tree.  These facial oils contain ingredients that can kill acne-causing bacteria and will also help slough of dead skin cells.
Oily skin~
Jojoba, tea tree, squalene and marula oils are good for those of you with oiler complexions. They are light in texture and won't make the skin greasy.  Other low-comedogenic oils like argan, buckthorn, kukui and rosehip are also safe options.  Rosehip can aid in reducing the appearance of scarring.  A moisturiser with alpha hydroxy acid is a good choice to use along with a facial oil if you have oily skin.
Combination skin~
Marula again is a great option. It has anti-bacterial properties and quickly penetrates the skin.  Use oils sparing for combination types along with a lightweight moisturiser.
For all skin types~
you can try Squalene.  Squlane is a delightful oil and is derived from olives and because its molecules are small, it can be easily absorbed and has amazing benefits for all skin types.
Aging Skin~
Try skin rejuvenation oils like argan, rose, sunflower, sweet almond, and raspberry oils.  You will love this skin treatment for your skin.
Here are a few of my favourite skin treatments ~
Eye Treatments~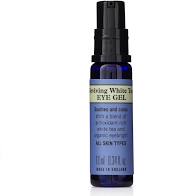 This Neal's Yard White Tea range is an incredible skin treatments range.  This eye gel soothes tired and sensitive eyes and reduces the appearance of puffiness too.  Enriched with antioxidant rich white tea extract and caffeine this is a wonderful treatment that leaves the under eye nourished and refreshed.
If left in the fridge, it can be a godsend for those with allergies.
Soothing White Tea eye gel £24.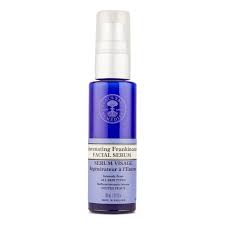 Serums~
A staple in my kit, this oil-free hydrating and mattifying serum is perfect for priming the skin.  It adds a layer of hydration that is suitable for all skin types.  It helps to plump the skin and minimise the appearance of pores.
Perfect for thirsty summer skin.  The smell is delicious too.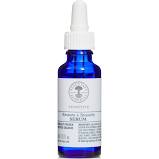 My own personal skin treatments serum.  Pure, lightweight and oil-free, this amazing soothing serum quickly absorbs to hydrate and re-balance sensitive skin. This has really helped improve my Roasaca.
The appearance of redness is reduced over time, and fine lines and wrinkles visibly plumped for a firmer, smoother complexion.
Facial Oils~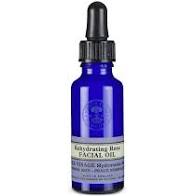 This best selling balancing facial oil infuses soothing damask rose and organic oils to give normal skin types a natural revitalising boost.
Another personal favourite that I reach for during the winter months or when the summer heat parches my skin.
Rehydrating Rose Facial Oil £26.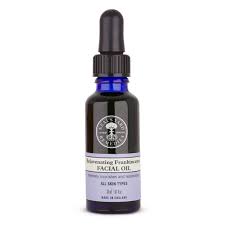 This rich and revitalising best selling facial oil moisturises and rejuvenates all skin types.
With a blend of toning frankincense and organic omega-rich botanical oils, it also helps to reduce the appearance of fine lines and wrinkles.  Great skin treatments for ageing skin.
The smell is something else, so calming to the mind and that's a treat in itself.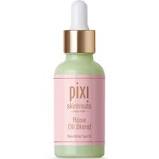 A luxe, ultra-nourishing oil that rejuvenates, restores and renews skin's luminosity.
I love the smell of this one too.  This botanical blend is infused with a powerful complex of youth-preserving oils to help improve skin's elasticity and glow.
I do hope this blog has helped you see what the main benefits of oils and serums are and I also hope it has given you some useful information about these targeted skin treatments.
Please do get in touch if you need any advice or have any questions about skincare.  I am here to help.
I will see you very soon for my next blog, covering commonly asked questions about bridal makeup.
Kay x