Wedding day makeup
In the next few blog posts, I shall cover some of the commonly asked questions I get about wedding day makeup.
Nowadays there is so many opinions and choices at your fingertips when it comes to wedding planning.  Especially when it comes to hiring professional hair and make-up artists for your big day.  Should you or should you do your own, what are the benefits to hiring a pro, what costs are involved the list is endless.
My aim will be to answer your questions and help you come to a decision that is right for you.  Hopefully it will save you the time of trudging through Google to find the answers.  And should you decide to hire with a professional for your wedding day, I can help you choose the right one for the job.
Carry on reading for my answers to those burning questions that you and plenty of other women are asking themselves during the process of wedding planning.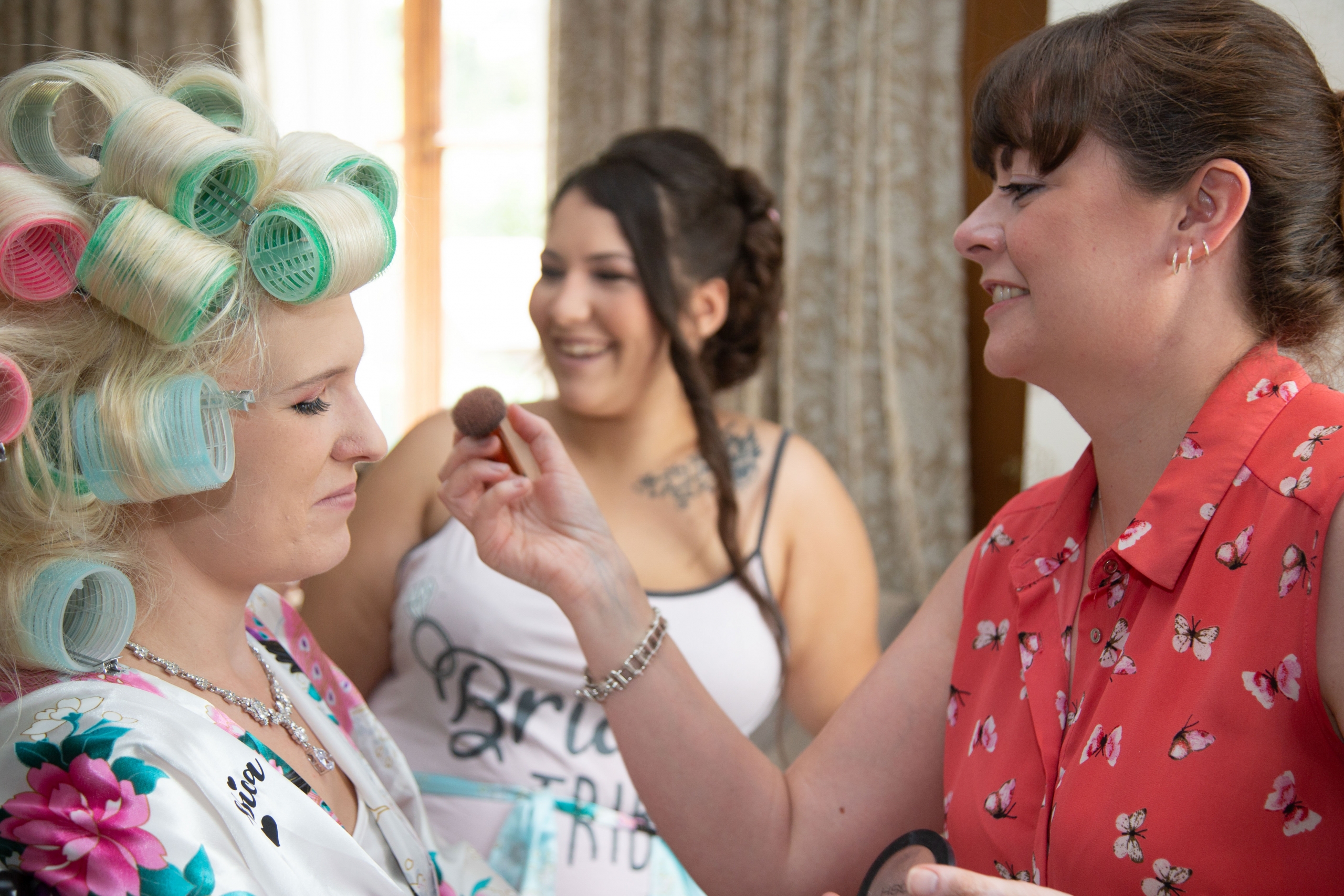 Do I really need a MUA for my wedding day?
This question comes up a lot and I always answer with a resounding YES.  Of course, it will be down to personal preference, but I would seriously consider budgeting for a professional on your wedding day and here is why….
There is no doubt that your wedding day will be filled with many different emotions.  Nerves, excitement, and anxiousness can leave you feeling…. well to put it simply, very out of sorts.    Even if you are a pro at doing your own makeup, the last thing you want to stress about is patchy foundation and wonky lip liner due to shaky hands.  Am I right?!
Think about it.  You have planned your day to perfection, from the invites to the final dance of the evening so of course you will want everything to be as you envisioned it.
I bet you have already put some effort into the planning and have brought a beautiful bridal gown, maybe a veil or hair accessories.  I'm sure shoes are on your list of things to get, along with jewellery, lingerie and your favourite hair style is planned.
So, you  found the perfect venue after you spent months looking for it, you have managed to book your favourite photographer, the florist has your flowers picked to exactly match the bridesmaid dresses, so having your wedding day makeup done professionally will really be the icing on the wedding cake.
I truly feel that you, looking your absolute best should be an important factor in your planning.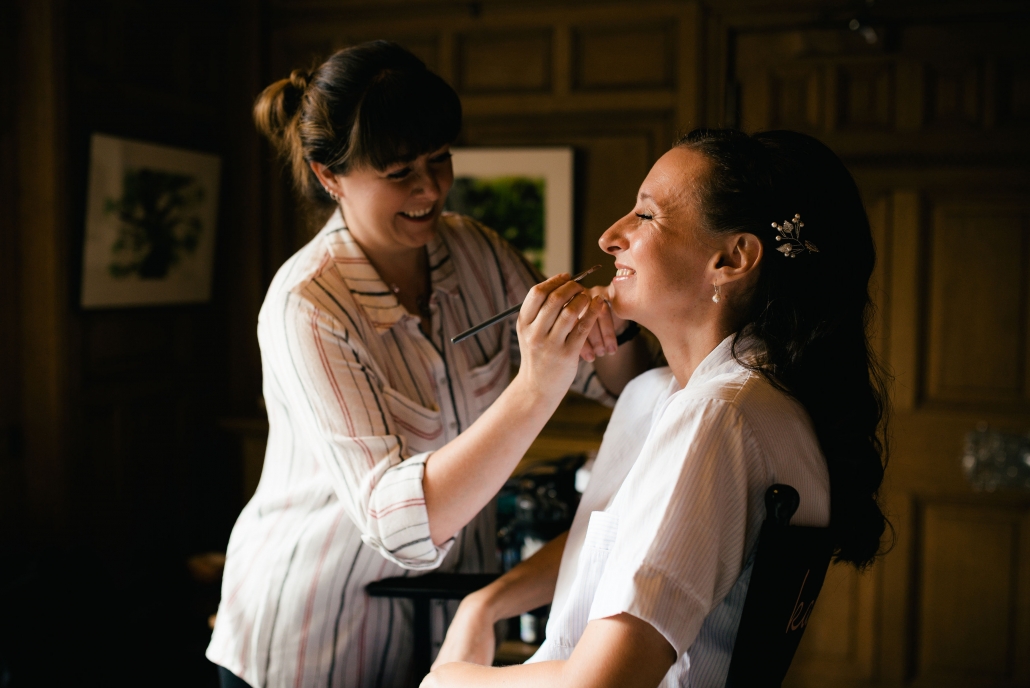 What would a professional MUA do for me on the wedding day?
 You may wonder what a pro could do for you that you couldn't do for yourself.  Here are some of the main points to remember when deciding if professional wedding day makeup is for you.
Help get your skin in great condition~
Well ahead of your big day, your MUA can advise you on your skin care routine.  They can advise you on products and techniques that will get your skin glowing months in ahead of the wedding.  This will benefit you long term too.  I have many clients that carry on with the routine I have suggested after the wedding day because they really do see the improvement in their skin.
Your skin will have time to adjust to the new routine and products.  This will mean you will need less makeup to look good on a daily basis.  Do you have any skin concerns or have problematic skin?  Your artist can help you find out what the issue is and correct your regime to help combat the issue.
Find the right colour match~
Whether it be foundation or eye shadow, a professional artist is trained in colour theory.  They can help you find the perfect colour pallet to suit you personally.  They can assist you in trialing colours on the eyes to find which colours bring out your eye colour.
Have you ever struggled to find the perfect red lipstick or blusher?  No problem for a pro MUA, they can advise you on how to identify the skins undertone which is so important when picking out products.
Foundation is always a tricky one to choose because there are so many on the market.  You walk down the cosmetic aisles saturated with product but how do you know which product to pick?  Your MUA will be trained in skin tones and types so will help find the perfect match for your skin and your requirements.  After all, you really don't want to have the stress of this when applying your wedding day makeup.
Apply everything to perfection~
Professional make-up artists are fully trained in  different techniques of applying makeup.  They will know how to give your products longevity and make sure that your look will last from the I-Do's through to the Goodnights.
Skin preparation is the key here.  Your MUA will know what products work in harmony with one another to prevent them sliding on the skin or wearing off after an hour.  A good artist will apply products expertly and give you great coverage but without it being heavy or cakey.
You won't have to worry about your eyeliner matching or finding a mascara that will last through tears.  Your professional will take away all the pressure so that you can just sit back and relax with a glass of bubbles and enjoy the morning.
It's the experience~
People think that having your makeup done professionally is just that, but it is so much more.
Hiring a pro is also for the experience, it's a whole package.
Yes, you will  have your makeup done and you will look amazing but, it should also about how you are made to feel.  Your MUA will help you relax and keep you calm throughout the getting ready process.  You will pampered like royalty.
I always advise my brides to think of me as their personal assistant for the day.  I will be at your beckon call from the moment I arrive to the time you leave for your ceremony.
The service I offer not only includes makeup.  It's about having someone there that can keep you calm, cut labels out, tweak hair, help you with earrings and shoes, I will even be on hand to help you dress.
My brides get my undivided attention, nothing is too much trouble.  There is not much that I haven't done for a bride on her wedding day, I can tell you.  It is my job to make sure you have no excess stress or worry.  That may mean me sending away a bridesmaid that is a bit too excitable or asking reception to bring up more champagne flutes (I'm also a dab hand at popping corks too!), I am there to assist YOU.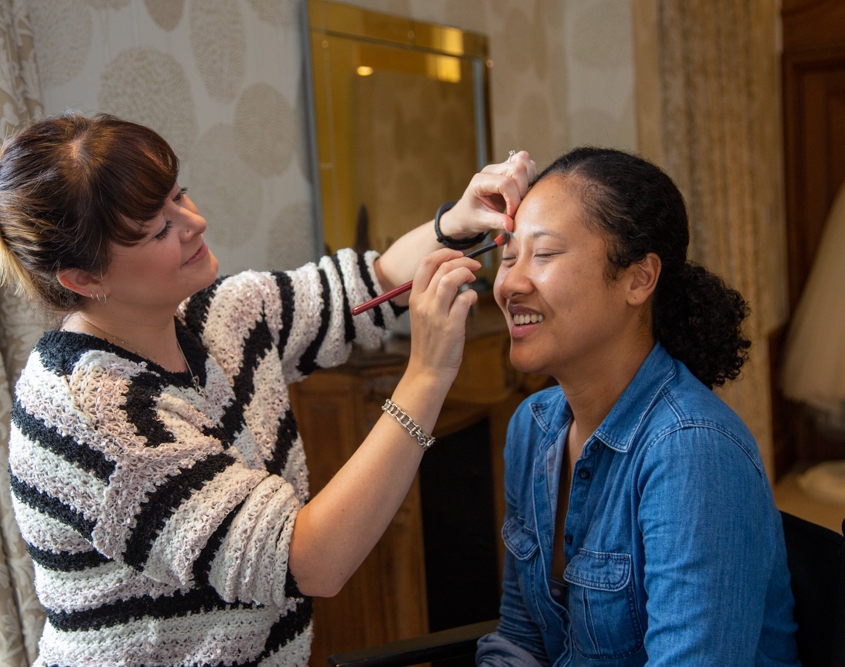 What's next?
The next step is looking for your professional make-up artist for your wedding day makeup.  As with everything today, you do get what you pay for in this respect.  However, I know there are fantastic professionals out there to suit every budget so have a look around.
Where do I start?
 If you always seem to like someone's work on Instagram, Pinterest or Facebook, why not check them out first because it seems like they have what you are searching for.
 Bridal directories are great if you have no idea where to start.  I can be found on Bridebook or The Wedding Industry Awards Directory which are both great for planning.  You will find all sorts of suppliers on the directories, not just wedding day makeup.
Ask around your friends and family.  Word of mouth is always one of the best ways to find a recommended supplier.  They have either used them themselves or know someone who has.  Your venue and other suppliers are usually willing to pass on the details of fellow industry professionals that they like working with too.
Other than that you can try and Google artists in your area.  Top artists will come out on the first page and will direct you through to their contact details, this could be a website, social media or directory listing.  Word of advice always check the reviews.
Of course, there are alternatives…
Are you on a tight budget and you simply cannot stretch to booking a pro?  If you are getting married abroad and you favourite artist can't travel internationally, then look at the next best thing.  A makeup lesson.
Most MUA's offer them and it can be a great way of getting a professional looking makeup with less cost involved.  A word on the edge of caution though, I would avoid cosmetic counter lessons for your wedding day.  I have had a few horror stories come through my door over the years.  At the end of the day these 'artists' are there sell product for their brand.  They are more concerned with earning commission than making you look and feel good.  There is also the loyalty to the brand where they can only recommend products from their line.
The choice is yours…
At the end of the day make the decision that is right for you.  As long as you feel a million dollars and look like the best possible version of you there is, it will be the right choice.
As always if you have any questions or wish to make an enquiry, get in touch.
HAPPY PLANNING!
Kay.