Airbrush Makeup, what is it?
What is airbrush makeup you ask?  A question that I get asked on a regular basis, so I thought I would dig in and give you all the in's and out's, the pro's and con's and tell you everything there is to know about the wonder that is Airbrush.  Starting with…
…The Basics –
Airbrush makeup is silicone, alcohol or water-based makeup product that is atomised and sprayed onto skin using a compressor.  The compressor pushes air through a hose and into a unit such as a trigger-controlled applicator or spray gun.
We control the spray gun using a trigger and operate it using fingers.  A pressure adjuster controls the air supply and the amount of airflow may be increased or decreased to suit the application required.  In the case of makeup application, it is usually set at around 20 PSI.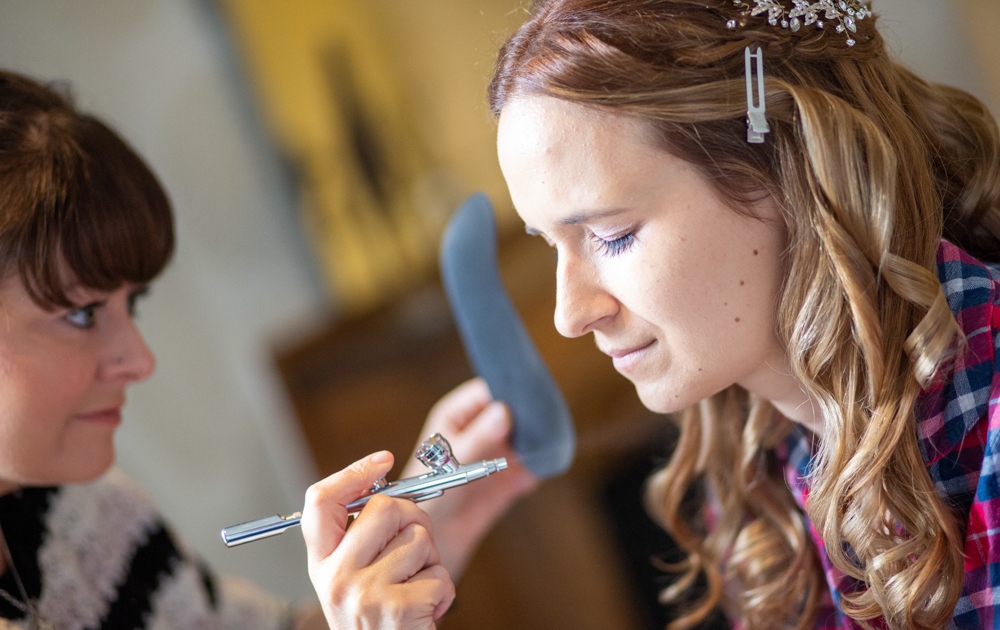 What products are used in the application? –
Airbrush application varies from industry to industry.  Some well know practices include, car detailing, cake decorating, nail art and embellishment, makeup, and spray tanning to name a few.
As you can imagine, there are so many suitable products that are used in airbrush but it does depend on what your need is.  Obviously, we talk makeup here so, the main area we use airbrushing for is base applications.  This can include foundation for face and body cover (spray tanning and tattoo camouflage).
Airbrush foundation products are water, alcohol or silicone based. They come in a range of shades and textures.  They are mixed in the gun and create unique colours and effects.  I personally prefer to use the silicone base, due to its longevity.
How is it applied to the skin? –
The product (in this case, foundation) is dropped into the well in the spray gun and then misted onto the face or body in light layers.  Because the product is atomised, the product is very thin and can be applied in even layers until the desired coverage is reached.  The application itself, is very relaxing and perfect for those that wish for good coverage but with minimal product.
Airbrush makeup is an extremely hygienic way of applying makeup to the face due to the fact you do not have to touch the skin at all in the application, unlike brushes or sponges.  Especially good practice with the pandemic still flaunting itself around.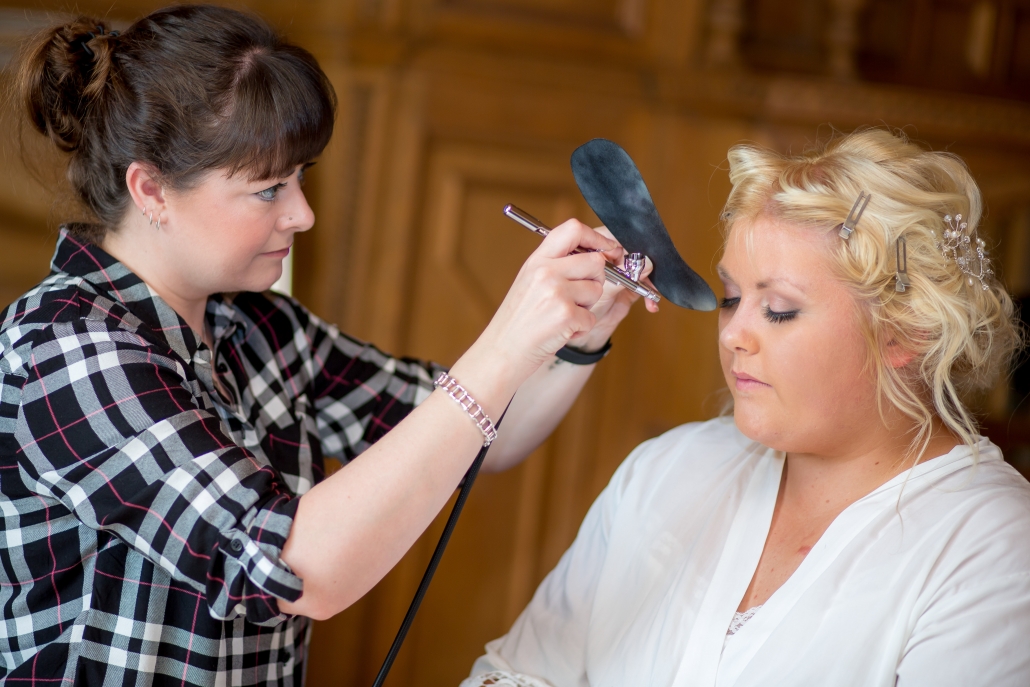 PRO's of Airbrush Makeup –        
Lightweight formula that gives an even cover.
Natural looking and Long-lasting, up to 18 hours plus.
Flawless semi-matte finish.
Instantly covers problematic areas with minimal products (redness, spots, scarring, birthmarks, broken capillaries, tattoos and bruising)
Water and sweat resistant.
Allows skin to breath.
Non-comedogenic (does not block pores because it's not absorbed into the skin)
Easy to match skin tones perfectly.
Hygienic application.
Airbrush makeup does come with its own set of concerns and here they are.
CONS's of Airbrush Makeup –
Can be more expensive. This is due to the training and equipment required by the pro.
If not done correctly airbrush can look heavy and 'mask like'.
It is harder to touch up areas if smudged. (however, this is down to the application.  If done correctly with a professional, if applied in light layers once the product has dried there should be no risk of streaking with tears).
It can look flaky on drier skin if the skin is not prepared properly beforehand.
Airbrush makeup can sit in deeper lines or enlarged pores emphasising them.
So, what are the benefits you ask? –
Airbrush makeup provides flawless coverage by minimizing skin imperfections whilst giving skin a beautiful, natural finished looking result. It is water resistant and will last for up to eighteen hours or more.
One of the major advantages of airbrush makeup is it performs well.  The most popular airbrush makeup is the silicone-base.  Silicone  will last longer and it is more water resistant than regular makeup.  Therefore, it'll withstand all the hugs, kisses and tears that will inevitably happen throughout your wedding day.
Is it worth having airbrush makeup for my wedding? –
In a nutshell, airbrush makeup is a great option for weddings. It has great longevity (weddings tend to be such long days), and it looks incredible in life and in photos, so you'll have flawless skin for all your memories.   You generally do not need touch ups throughout the day, leaving you able to relax and put makeup to the back of your mind so you can concentrate on enjoying every minute of your wedding.
Airbrush is a common application and many professional make-up artists use it, so you will not need to worry about the initial investment or buying the right foundation. It is more expensive, but for such a special occasion it can be nice to splash out!