Wood Norton Weddings
Caroline and Niall's DIY Wedding
Where can I start with this beautiful Wood Norton wedding? After a covid forced postponement, lots of emotion, stress and tears the couple were finally able to tie the knot back in June this year with a intimate ceremony and reception.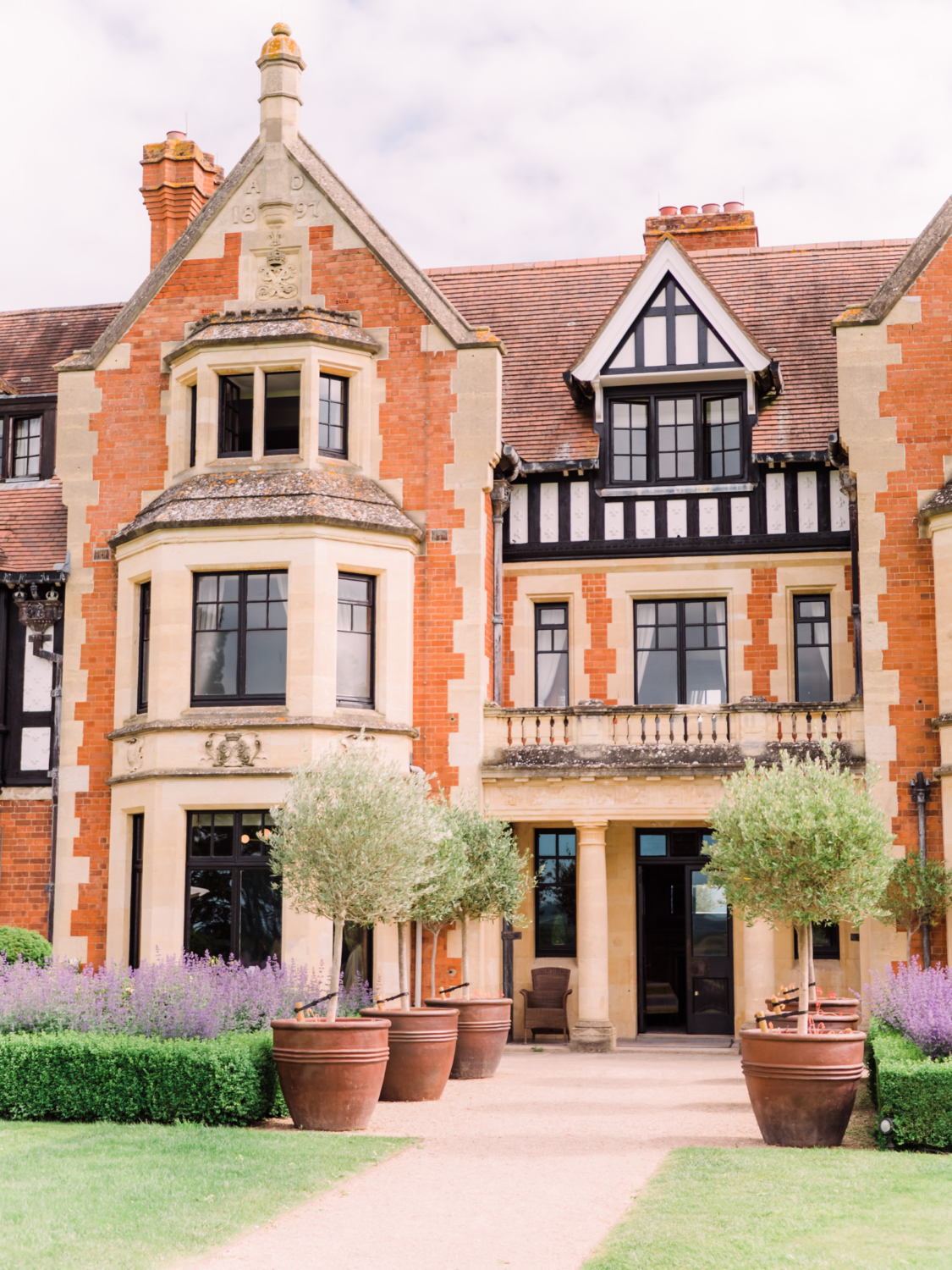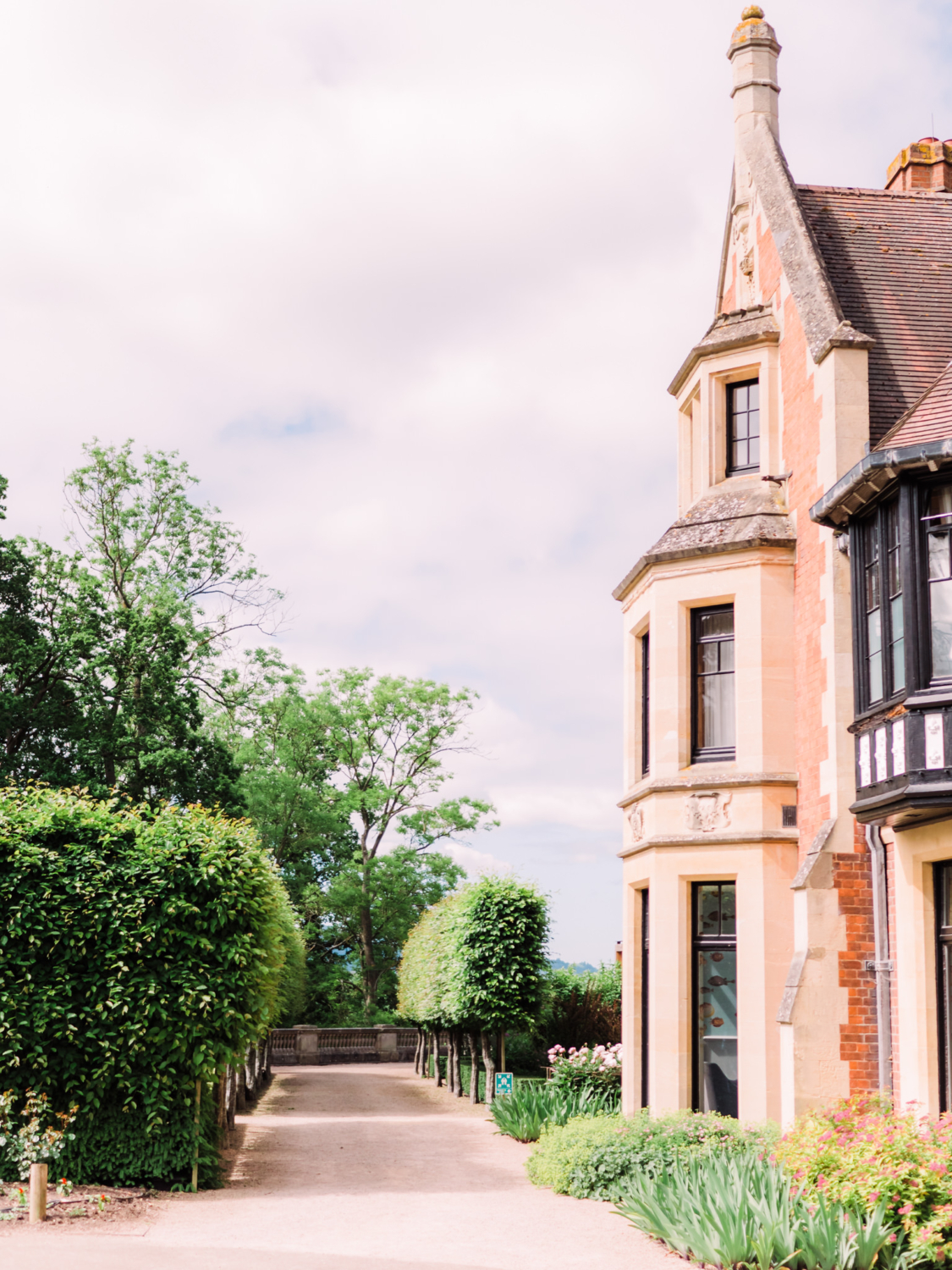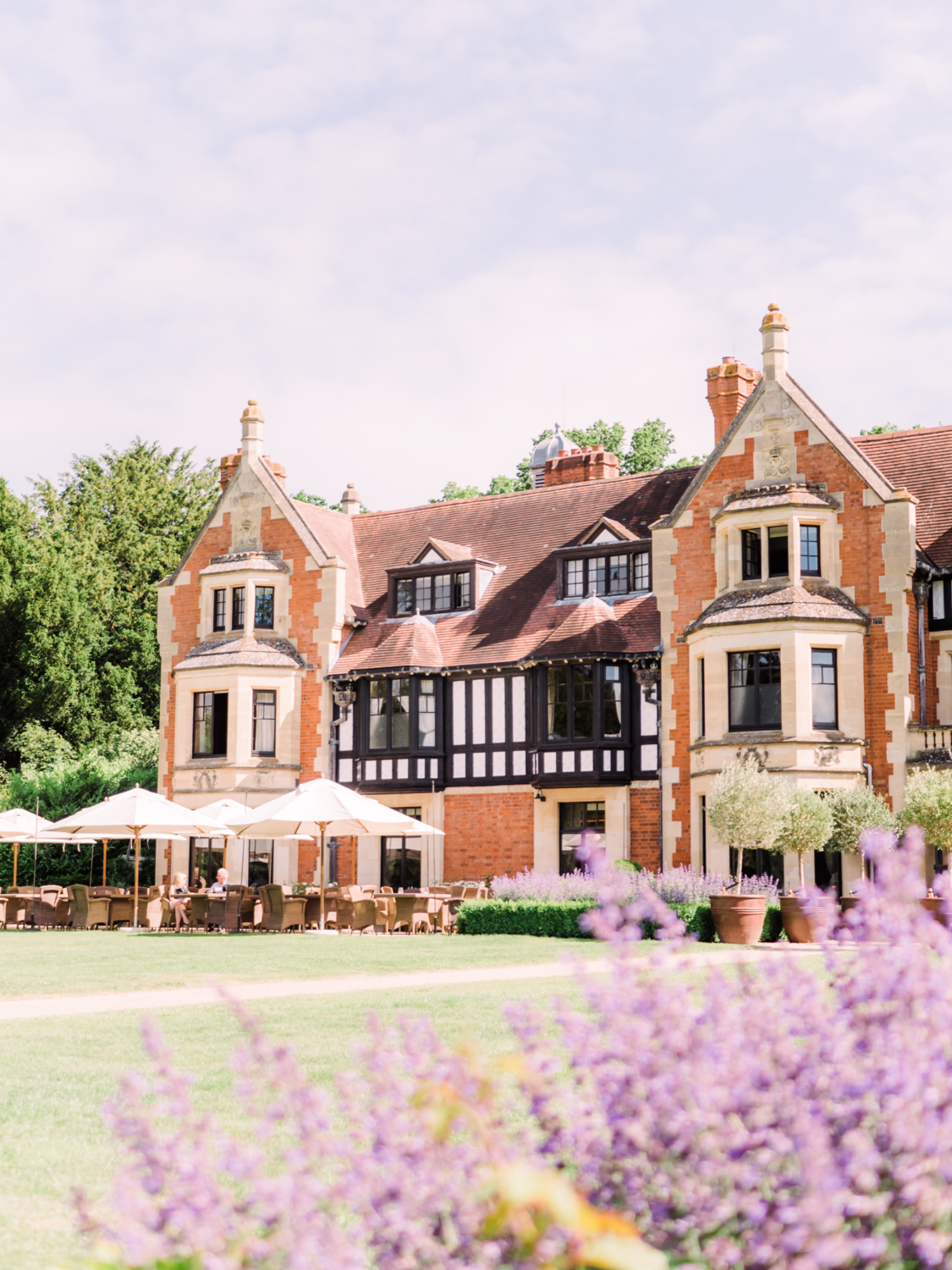 THE WOOD NORTON WEDDING VENUE
The Wood Norton holds a special place in my own heart – after all, it's where I tied the knot back in 2018 – the team are just amazing and the grounds stunning.
The unique wedding venue is nestled on the cusp of the Cotswolds, and is a short distance from Worcestershire, Stratford-Upon-Avon and Cheltenham. The Wood Norton is a fantastic wedding venue for your special day. With the most spectacular view of the Malvern Hills in the distance it has the perfect backdrop to any wedding photo.
WHERE IT ALL BEGAN
Let's start back where my journey with the bride began, back in 2019! I first met Caroline in October 2019 at the Wood Norton's Autumn wedding fayre. When she first got in touch via email, I remembered her well due to her quirky wedding theme and shock of crimson hair, a lady after my own heart. I knew straight away we would be the perfect fit for one another.
You see, Caroline is very gifted when it comes to do-it-yourself crafting. She basically designed and made her whole wedding day décor and boy was it exceptional. I absolutely adored following her Instagram account and seeing her posts about things she was creating for their big day. Most of all the stunning origami birds.
As you can see, her talent meets no end, and the results of her crafting really made her theme.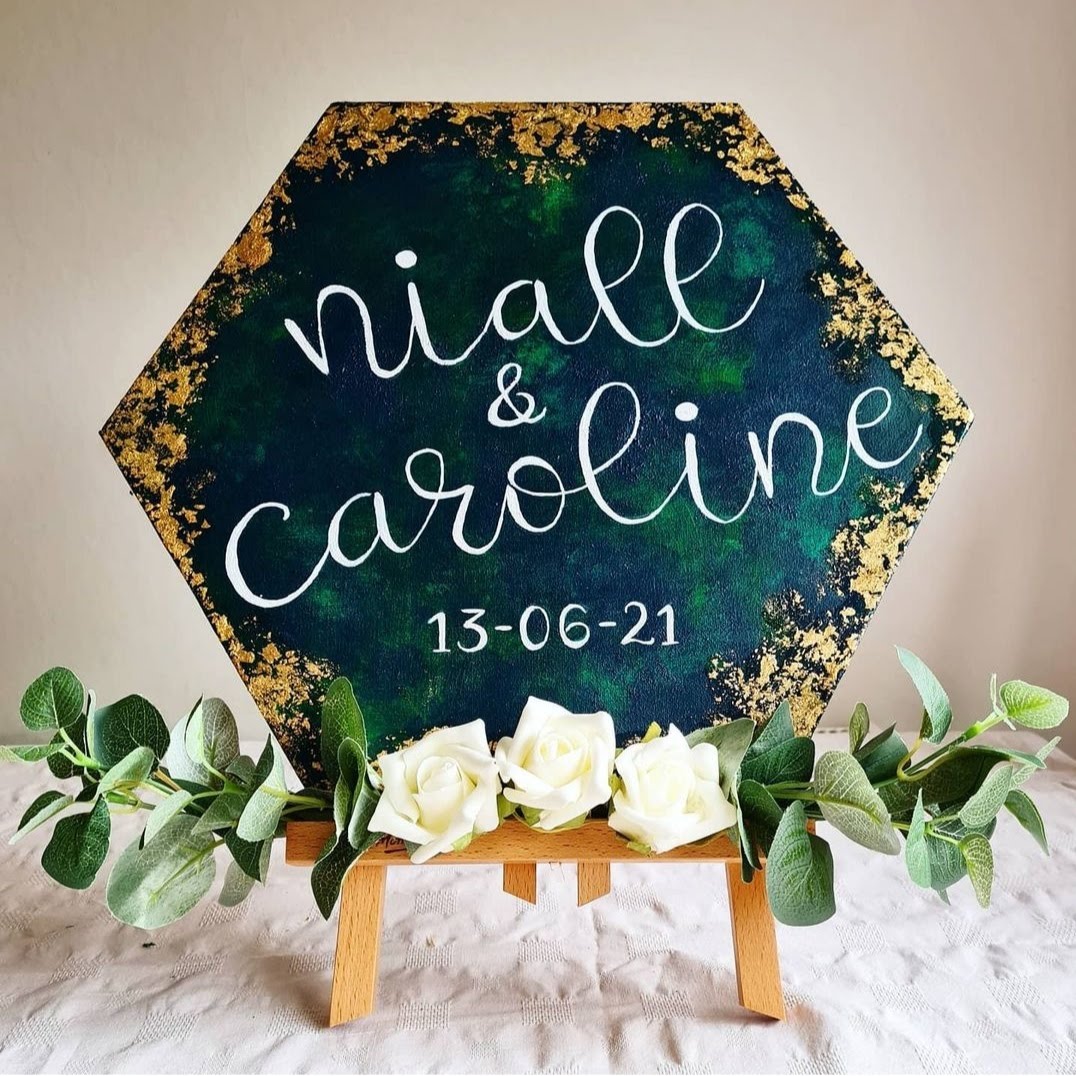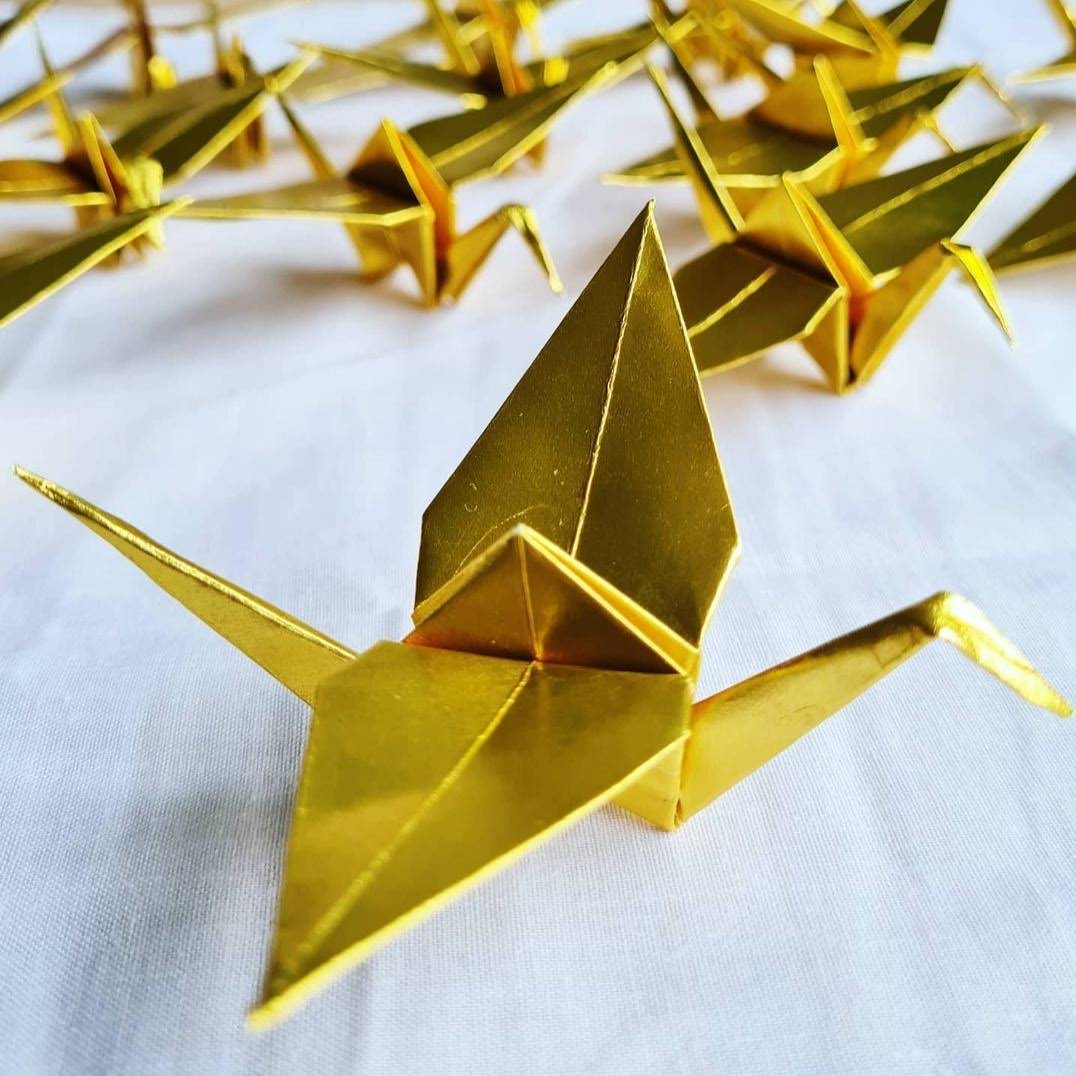 BACKSTORY
Niall and Caroline were engaged whilst on a visit to Japan, so it only seemed right to incorporate this into their wedding theme. Teamed with gilt gold and green their theme flowed beautifully throughout every element of the couples planning. The table plan with tables named after places they visited whilst in Japan and the gold, green element is depicted to Niall's Irish Heritage. Even the cake was a perfect reflection to every aspect of the Japanese theme. The Green Bean Cake Company really did a tremendous job on it, I'm sure you'll agree!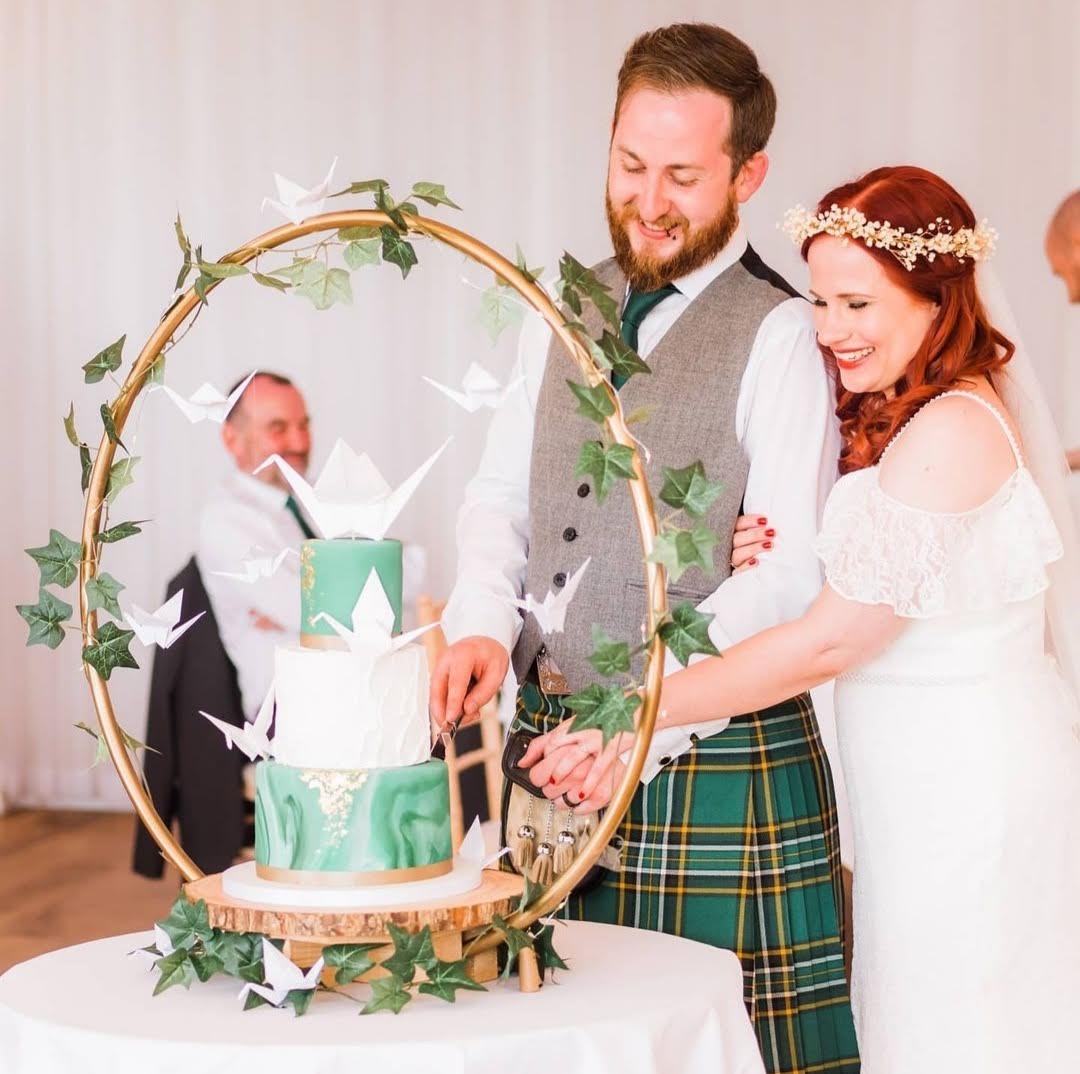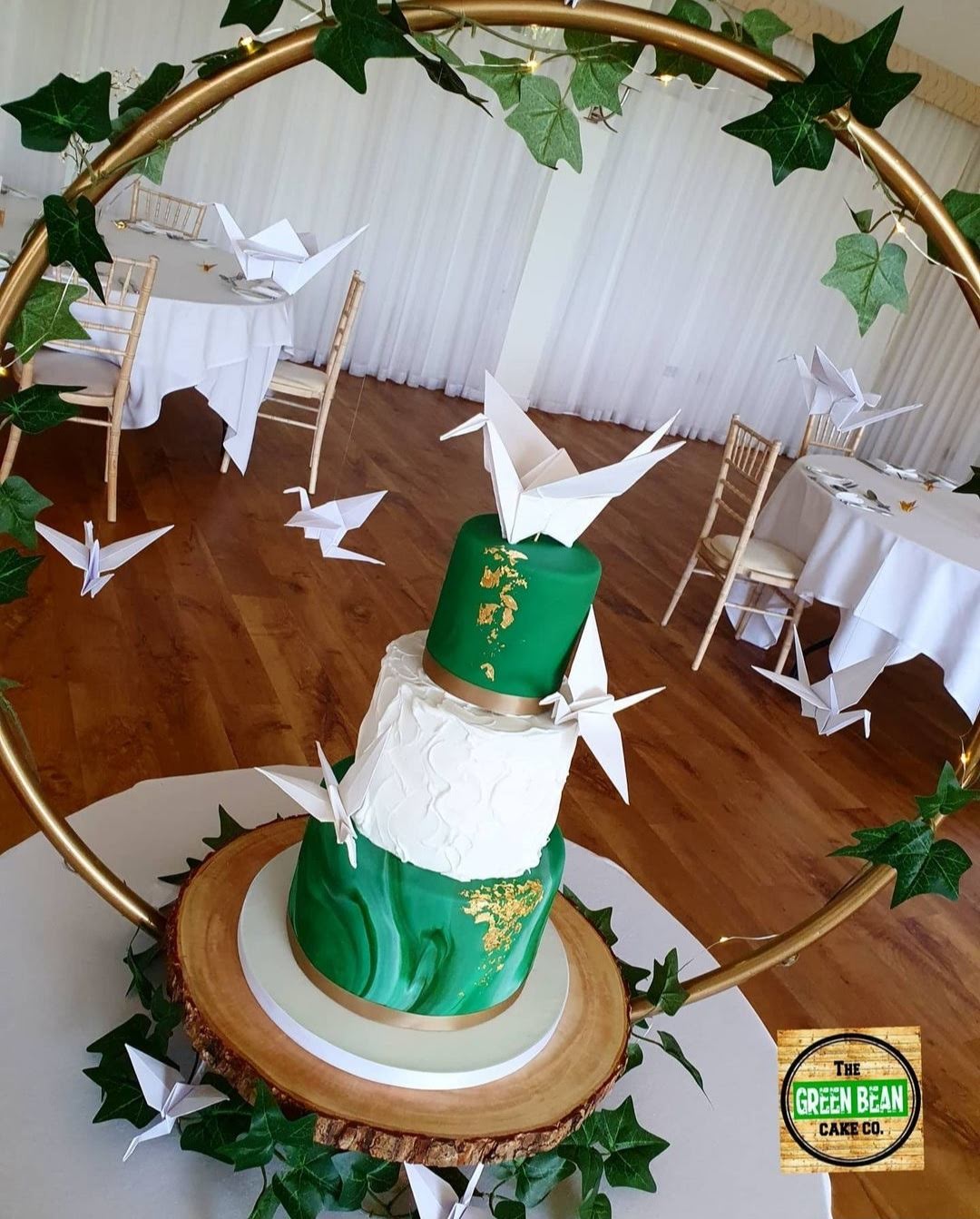 HAIR AND MAKEUP
After chatting with Caroline, from the first instance I knew we were on the same page with styling. She wanted to look and feel like herself, just the very best version and this is exactly my philosophy when it comes to bridal makeup. It is so important as a bride that you look and feel like 'you'. After all, wearing a dress you'd never usually wear and having a hairstyle that generally is different and more glam too, you need to find you when you look in the mirror. What better way is there than to stick to what you know?
FINDING CAROLINE'S 'NATURAL'
Working together, we found Caroline's 'natural'. That consisted of a subtle smokey-eye, small cat flicked liner and her go-to statement red lip. Nothing else would work for this fiery haired beauty, so it just had to be fire engine red.
We used a gentle grey and taupe on her lids, added a little shimmery gold and champagne coloured pigment courtesy of Illamasqua, teamed this with a jet-black gel liner and finished the eyes off with lashings of mascara and a few faux mink cluster lashes.
After airbrushing her foundation lightly, adding a peachy toned watercolour blush by Daniel Sandler and her red lip she was ready to face the day ahead with confidence.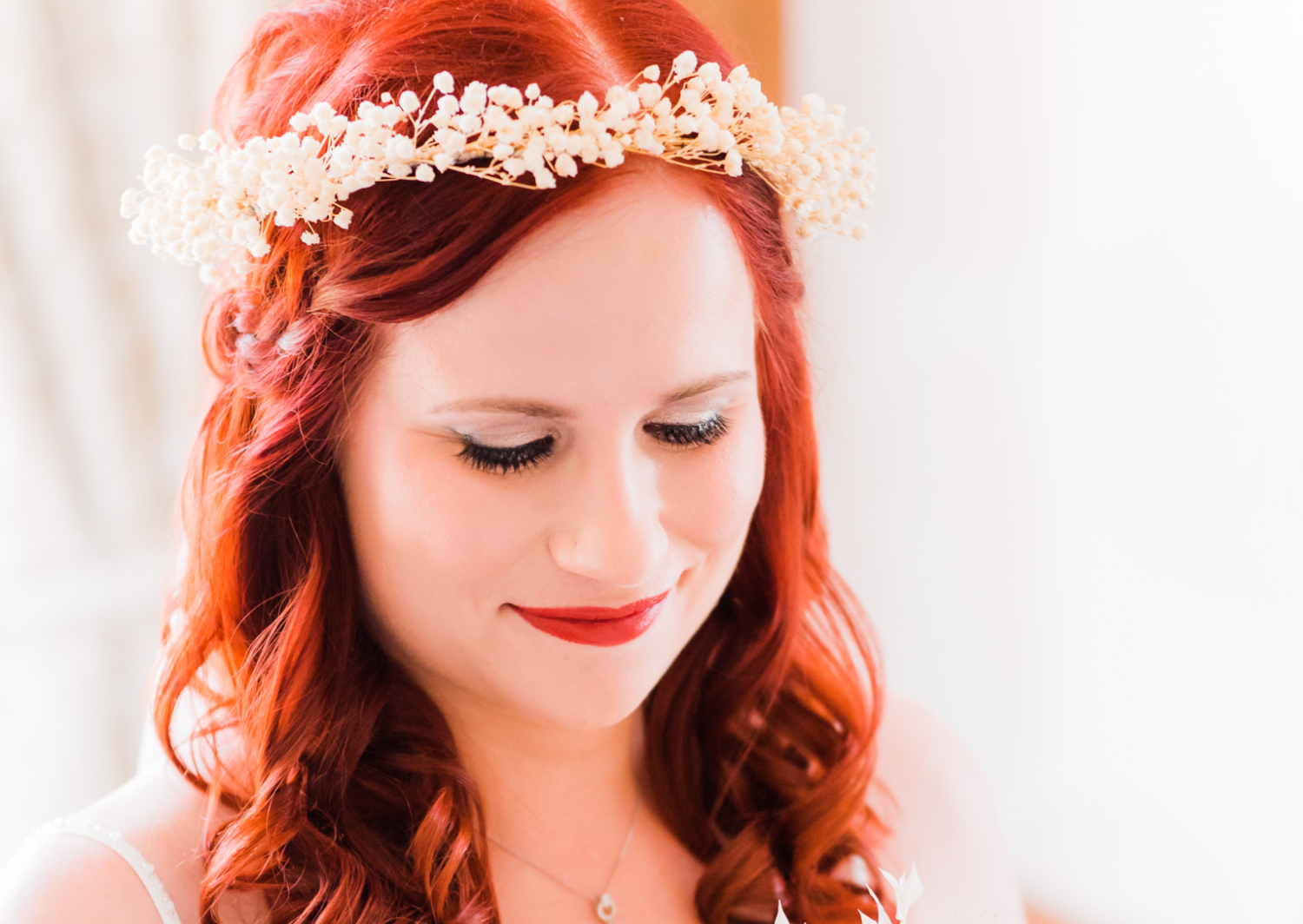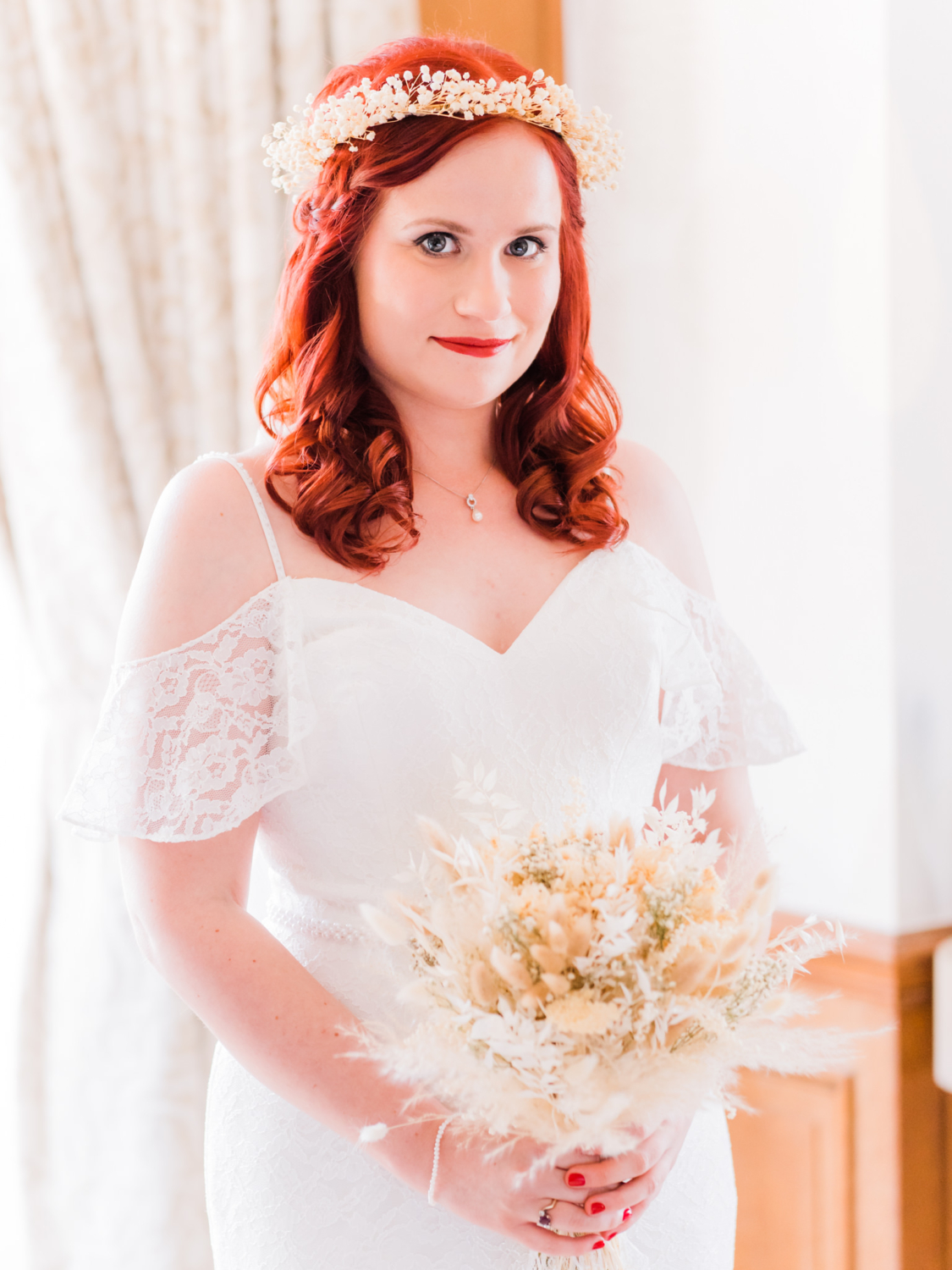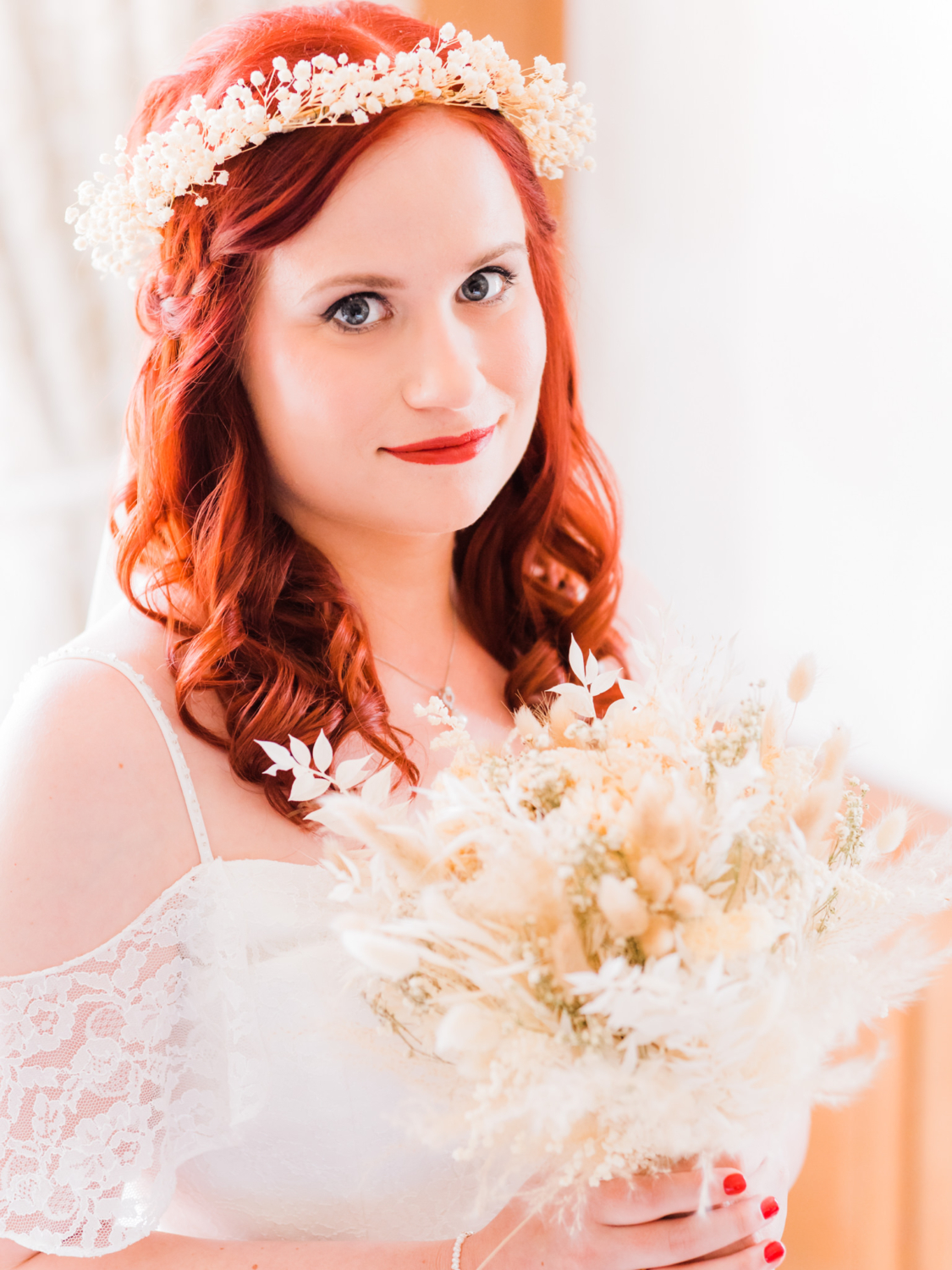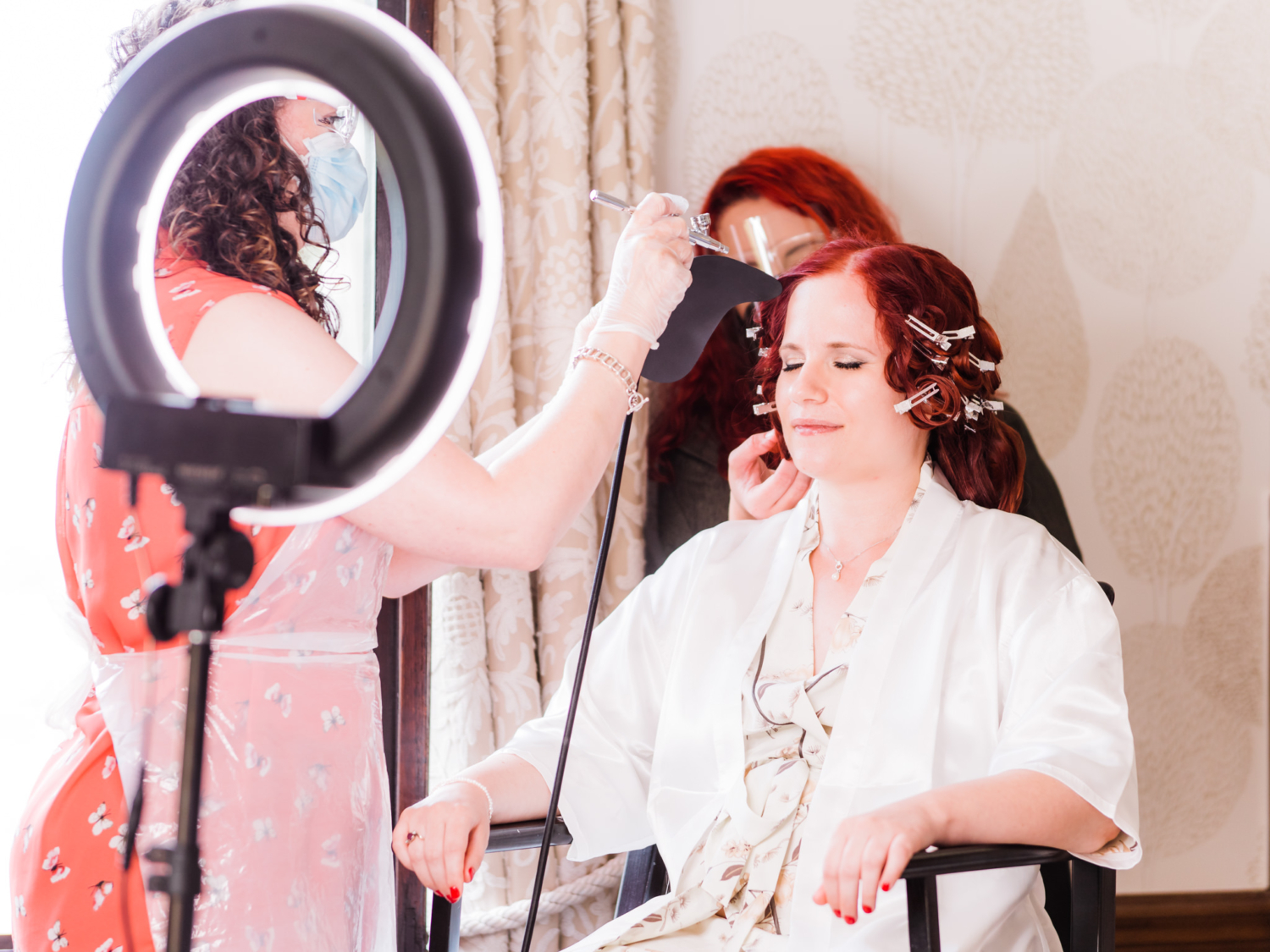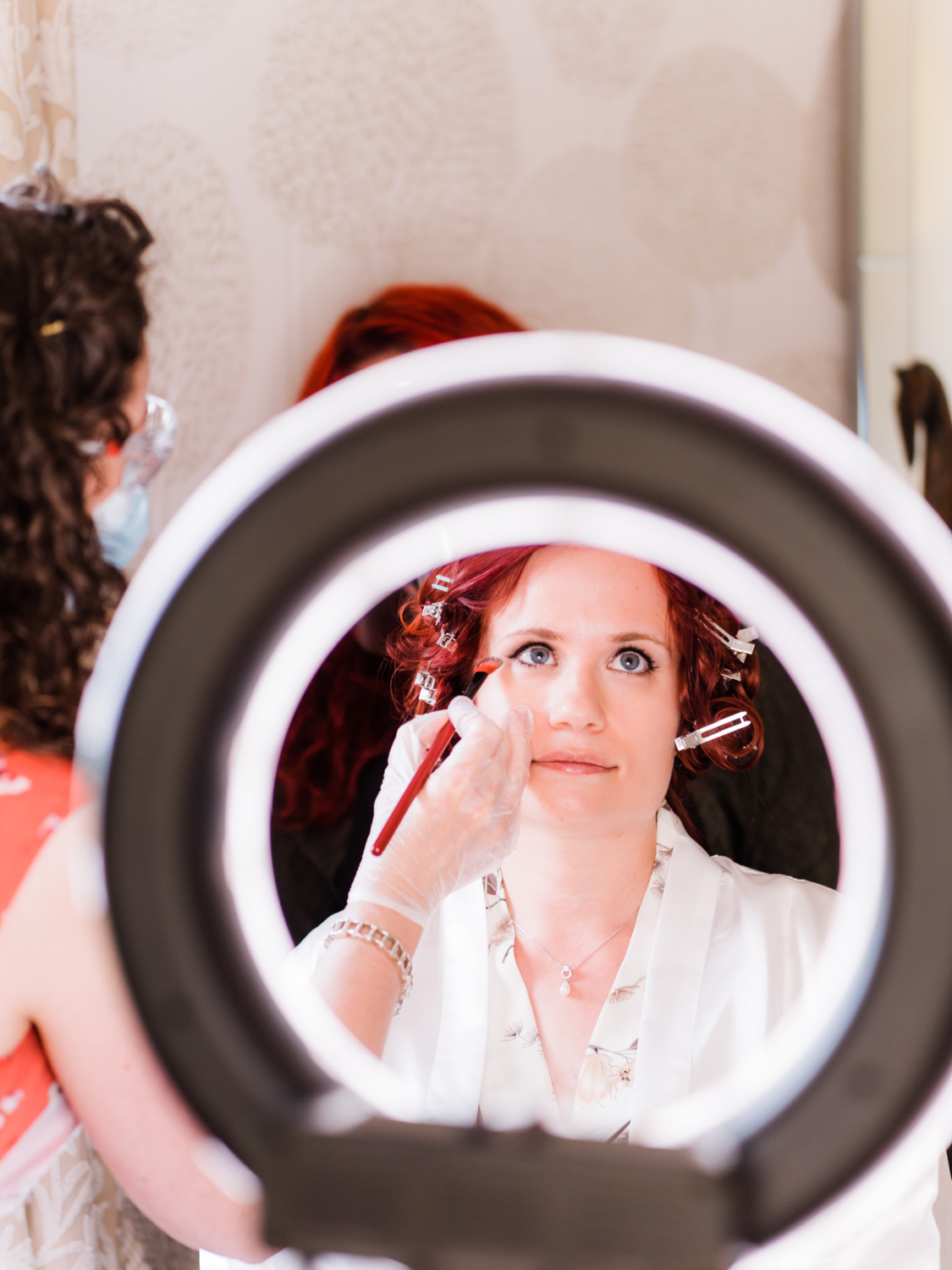 HAIR
Caroline has statement hair and very little is needed to make it stand out. Claire did the most outstanding job as always. I have worked alongside Claire for many years now, we are a dream team when it comes to bridal styling. We work so well together and will organise your wedding day preparation, so you won't have to think about a thing. We will even help you dress, pop on shoes and get you downstairs and into the car. Nothing is too much trouble for team "CL-AY".
A fellow Wood Norton recommended supplier, Claire is such a beautiful lady inside and out. She has an amazing talent and can make any bride's hair look the best it can be. She is super quick, and her styling knows no boundaries. Seriously, if you are looking for bridal hair styling for your big day – look no further than Hairstylist Worcester.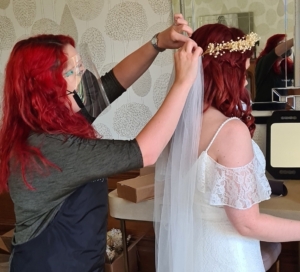 PICTURE PERFECT
Once Caroline and her bridal party were all dolled up and ready to go, they were ready for those all-important bubbles and photographs before the ceremony. All of the images are captured beautifully by Veronika J Photography. Every picture truly reflects the emotion felt at every point of their day. Looking at each photograph, you can feel the moment as if you were right there with them. Another truly talented vendor to consider for your own wedding day.
Veronika blends right in like a member of the team or a guest. She has a quiet presence and is lovely to be around. Her photography style is effortless, luminous and candid. Her approach is not posed or false and the images she produces are light, airy and dreamily feminine. Go take a look, I'm sure you will fall in love with her style as much as I have.