WEDDINGS AT BRINSOP COURT
RO AND TOM
I love visiting Brinsop Court, it's such a lovely venue and I couldn't wait to finally be able to get Ro ready for her vows.
To date, Rohanna is the most chilled bride I have ever worked with. She honestly was so laid back about their pending nuptials even when let down last minute by her hair stylist. It blew me away.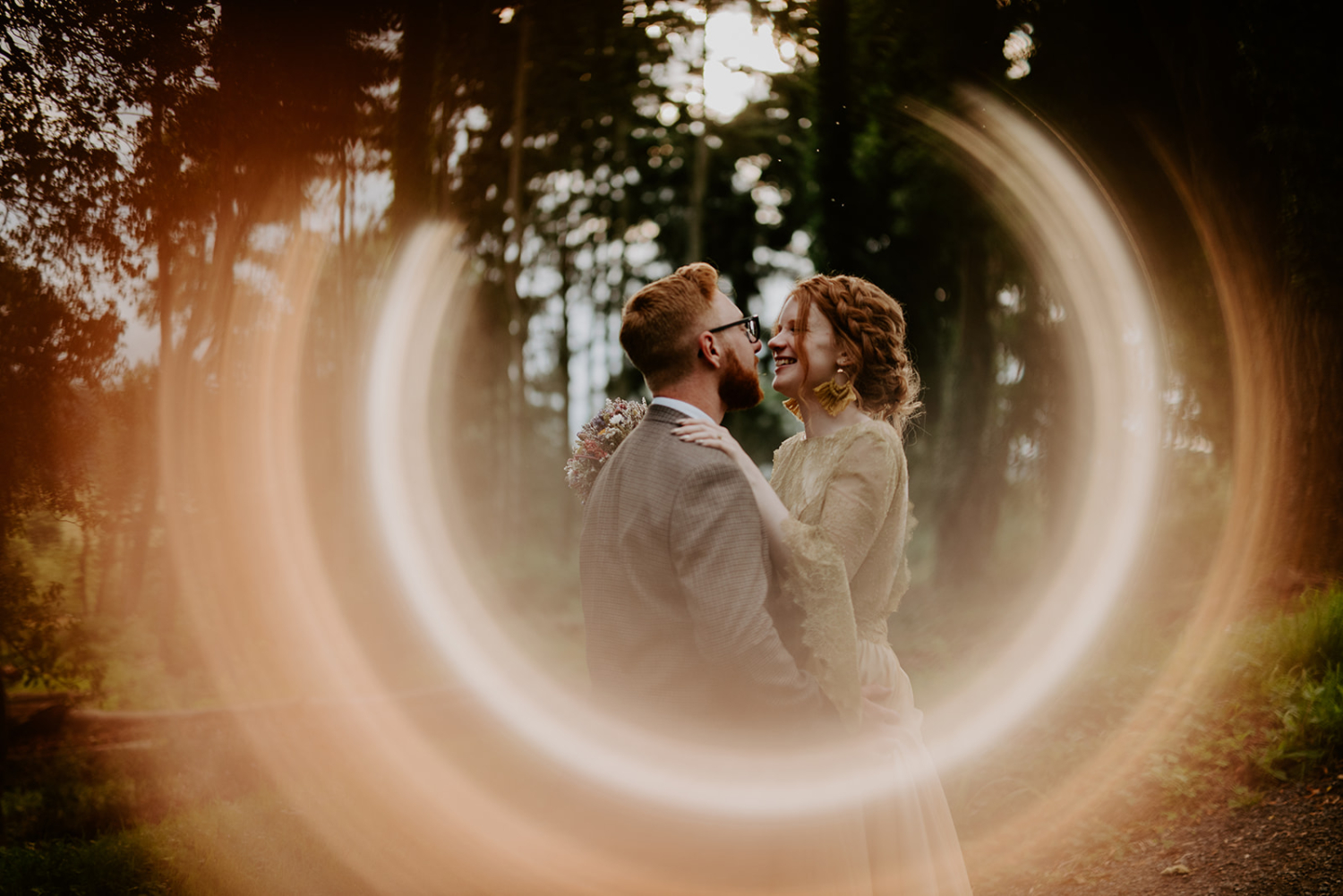 THE FIRST MEETING
Ro contacted me in April 2019 (wow seems like an age since then) and we first met up in January 2020 if I recall correctly. Their wedding was booked originally for 25th April 2020, so she was well ahead of schedule in getting in touch.
I knew in instantly we were a great fit for one another. We share the same ethics when it comes to animal welfare, quirky style and love of nature and Wiccany type things.
After a coffee, we hit it off and I knew I couldn't wait to help her get ready on the big day.
A PANDEMIC
Unfortunately, Covid-19 had other ideas for Ro, Tom and the world's population.
However, even this didn't phase her. After the initial heartbreak for us all, she went with the flow of it all and between us we managed to find a date that I was still available for. Their new date was set for 10th July 2021. It was touch and go for so long as to whether I would even be able to work on her date as the government still insisted that working on the face even when using medical grade PPE and disinfection procedure, was unsafe. Even when dentists and hairstylists barbers were permitted to work, we were still penalised.
Luckily, lockdown ended, and restrictions were lifted enough so that Ro and Tom could proceed with their big day. It was a covid-secure wedding with an intimate gathering of 30 but it was beautiful. They got to have their outdoor ceremony with their nearest and dearest and everything finally fell in to place. I suppose having an extra 16-months planning will always be beneficial eh.
THE VENUE
Brinsop Court Estate is just a wonderful venue. Situated in the rolling hills of Herefordshire, it is a 14th Century manor house that is encircled by a moat, with a traditionally built oak barn and two idyllic cottages that is all nestled within 800 acres of farmland and wonderfully preserved nature.
Dating back to the early 1300s, the manor house has been home to many noble families, and I bet it has a few stories to tell – if only walls could speak! The rooms and halls at Brinsop Court are filled with period features and ornate ceilings with it all resting upon medieval foundations.
I just love watching the ducks and swans floating listlessly upon the water of the moat and hearing the birds song  and sheep bleating in the distance.
The staff are wonderful and are always on hand when you need anything as a bride or a supplier. There is nothing not to love about Brinsop.
THE DRESS
What can I say about Ro's gown? I have no words, just aw. She actually designed the dress herself alongside the very talented Sophie who is based on Friar Street in Worcester. Her bespoke gown has been designed to showcase her very impressive back tattoo and boy did it!
The unique spun gold colour really complimented her skin tone and beautiful red hair. The sleeves were just the most amazing finish to the gown. Almost medieval so that it kept the tone of the venue perfectly.
She chose the most amazing shoes and accessories to match and incorporate their theme. Best Woman Laura's dress created a beautiful union in a soft fern green with added sparkle.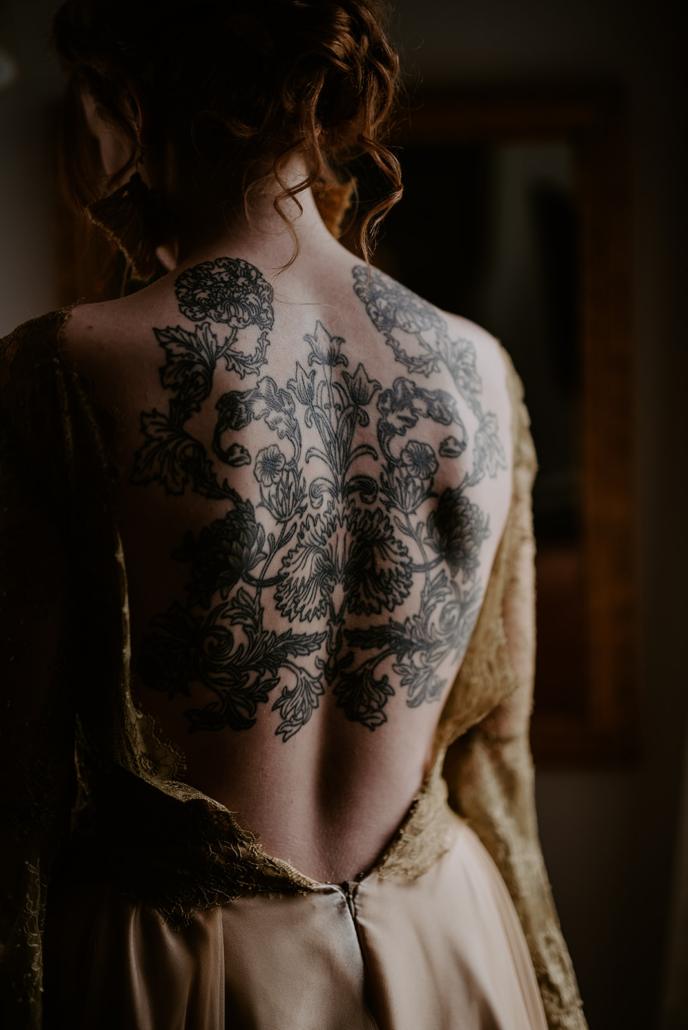 RO'S LOOK
For Ro, makeup is a bare minimum affair. Working closely together we were able to find the best version of herself. By carefully selecting tones and colours she was used to wearing I found a pallet that would be perfectly in keeping with her skin tone, hair colour and more importantly… the dress.
She wanted a little sparkle added, so I used a little glitter on her lids to make them pop. Making a statement with her eyes meant keeping her skin fresh, and lip understated. We achieved this by using the lightest application of airbrush foundation, a tiny flush of bronze tone blush and a nude lip.
I'm sure you'll agree, her look was just stunning.
Her hair was beautifully styled by October of October Hair and just finished her look off to a tee.
CAPTURING THE SPECIAL MOMENTS
On capture duty was the amazingly talented and genuinely lovely guy Mark Horton Photography. As soon as he walked in the room, I knew we were set for some giggles. Mark just has a way about him. You know, one that has you instantly feeling super chilled and at ease.
Marks style is relaxed, non-traditional and creative. He is so easy going and such a pleasure to work alongside. He kept us entertained and as you can see, the images speak for themselves. I very much look forward to working with Mark again in the future. Please do go check out his portfolio for yourself especially if you are planning an alternative, quirky affair – he will be on it like a car bonnet.
SUCH A WONDERFUL MORNING…
Working with Rohanna was just amazing. She is the most beautiful soul inside and out and I had such a wonderful morning with her and her bridal party. The way she dealt with the postponement, having to change hairstylist and her photographer due to the pandemic left me in awe. It was only at the last minute, when an accidental breakage caught her off guard that she broke and even then, she has the loveliest crying face I have ever seen.
Ro, you are a dream to work with and I do hope our paths cross sometime in the future. Thank you once more, for choosing me to share such special memories with you. My only regret… not meeting to the famous Bruce, seen here in all his furry glory.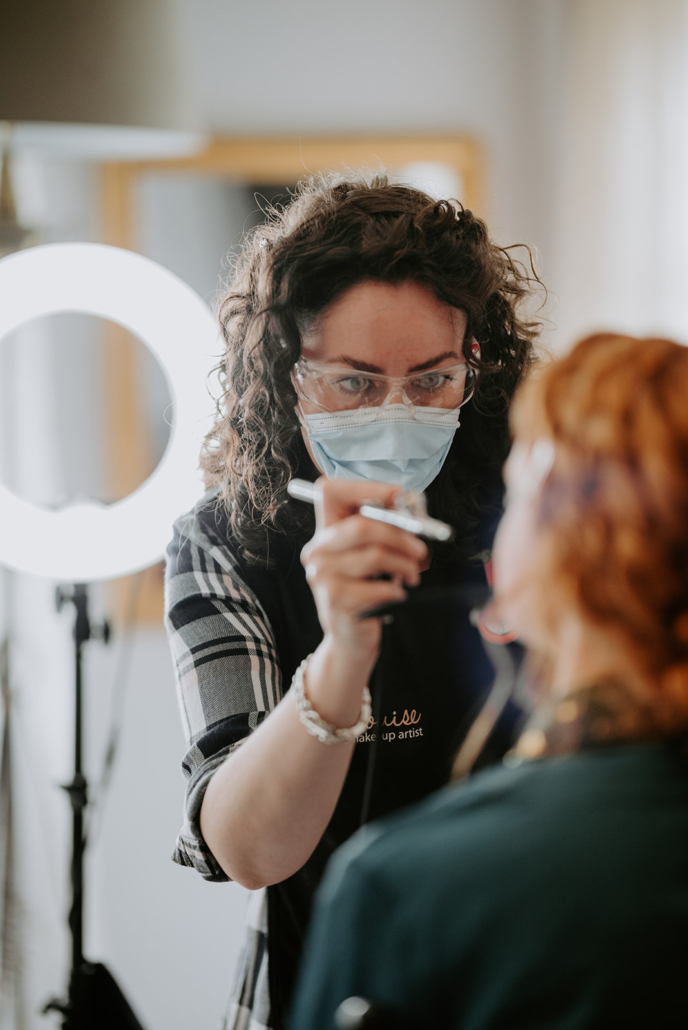 Suppliers List
Venue:-  Brinsop Court Estate
Photography :- Mark Horton Photography
Hair:- October Hair
Makeup:- Kay Louise Makeup
Gown:- Sophie Wynne-Owen